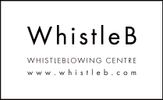 Delphine Becker, new Sales Director at WhistleB
WhistleB, offering whistleblower services to the global market, is expanding and recruits Delphine Becker to head up its global sales. On the back of two other new customer relationship recruitments to its Nordic hub, this is one in a line of recent additions to the expanding WhistleB team.
"We are delighted that Delphine Becker will now head up our sales globally. Delphine comes to us with years of experience from supporting global customers with whistleblower services," says Gunilla Hadders, co-founder of WhistleB.

"WhistleB has the honour of cooperating with ethical companies that want to do fair and good business. It is inspiring to enter a company that shares this strategic intent and has such a strong track record. I am very much looking forward to being part of this growth," says Delphine Becker.
"We have always been driven by the results we can help our customers achieve. They have been able to put a stop to, or prevent, sexual harassment, fraud and all manner of corruption with the help of our service," says Gunilla Hadders. "What better mission can we have than to help customers protect their business operations and their people?"