Holger Blom's sea lion terrace becomes the Baltic Sea Science Center
How should Skansen use the former sea lion terrace that has stood unused for many years? The location between Skansen Aquarium, the Galejan Fairground and the former Elephant House was too central to be left empty. Head of the Zoological Department Tomas Frisk and CEO of Skansen John Brattmyhr put their heads together. They contacted Stockholm University and the Swedish University of Agricultural Sciences, and together they began thinking about a knowledge centre for the Baltic Sea and the environment – a place for learning. Architect Katarina Wahlström from KAWA and landscape architects Topia were commissioned to produce an initial sketch for the area.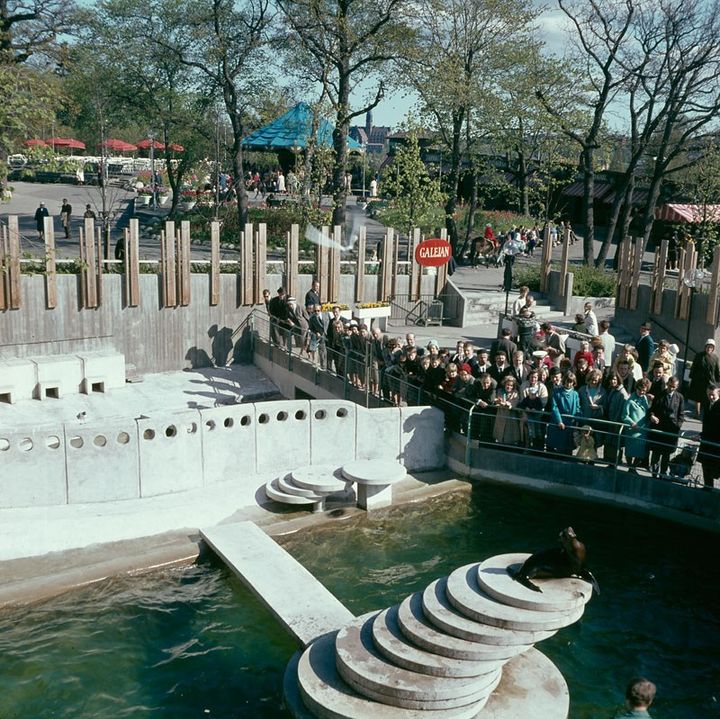 Even at this early stage, it was already clear that there was great potential to create an area with attractive content and spaces for educational activities, and the idea for the Baltic Sea Science Center was born. With a sketch from KAWA, Skansen gave a presentation to the BalticSea2020 Foundation, which decided to come on board as the main financial backer. The outline planning began in autumn 2015.
Following a procurement process, SH Bygg was awarded a turnkey contract in partnership with Skansen. KAWA and Topia were engaged by SH Bygg, together with other consultants, for the continued construction document planning.
"It's been a fantastic experience helping to create a project with such fascinating and important content, and to do so at one of Sweden's most popular attractions," says architect Katarina Wahlström. "It's also been interesting to have been involved from the start, creating content for the centre together with Skansen, researchers from the knowledge council and experts on aquariums and Baltic issues. The design process has been exciting, focusing on everything from creating exhibition spaces and educational activities to designing aquariums.
"The design of the building has been based on its specific content, and the exterior has been adapted to fit its surroundings. The whole collaboration process really has been both fascinating and rewarding."
One requirement for the construction project was that it should occupy the former sea lion terrace between Skansen Aquarium and the Galejan Fairground, with its pools, steps and terraces that had fallen into disrepair after so many years of disuse. This was an infill plot in a historic setting, and the building would need to house many functions and highly complex, space-intensive technology in a relatively small area.
The historic 1960s setting is part of the Lower Solliden Park created by architect Holger Blom, which also includes the old Elephant House and the Tropical House, now the Monkey House. The plot features considerable variations in levels, a height difference of around 10 metres, and thoroughfares running around it.
"We've designed the centre so that visitors can find different ways to experience it. The plot is on a slope, and we designed the building as a 3D puzzle that connects with its surroundings in different ways. The various levels also build upon the structure of the former construction with its terraces. This creates five different levels, one of which is below ground.
"In terms of the external design, we have taken the concrete architecture of the existing structure as our starting point. The concept combines coarse materials – in-situ concrete and wood, which will turn grey with time – with glass as a contemporary addition. We are also building in a simple yet contemporary style.
"The design is based on a number of elements from the previous structure which have set the tone for the new building. One example is the portico wall where the entrance to the aquarium is positioned."
In terms of materials, the building can be divided horizontally into three different parts: a base level of in-situ board-cast concrete, a glazed mid-level that faces onto a courtyard area, and two partly cantilevered wood upper sections with an intermediate terrace. The entire building covers an area of around 2,000 m².
Bilder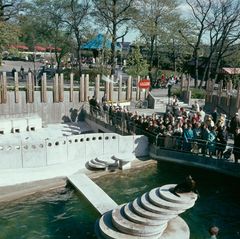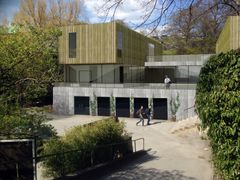 Om
Stiftelsen Skansen
Djurgårdsslätten 49-51
115 21 Stockholm
08 - 442 80 00
http://www.skansen.se/sv
Skansen är världens äldsta friluftsmuseum. Det grundades 1891 av Artur Hazelius för att visa hur människor bott och verkat i Sverige under äldre tid. Cirka 150 byggnader har flyttats hit från hela Sverige. I djurparksdelen visas skandinaviska vilda djur och på en del av gårdarna tamboskap. Skansen-Akvariet har exotiska djur. Dessutom finns här scener, restauranger, lekparker och butiker. Varje år kommer cirka 1,4 miljoner gäster till Skansen.