Places to be illuminated this year as part of Nobel Week Lights Stockholm
For the second straight year, the artistic light installations of Nobel Week Lights Stockholm − running from 4 to 12 December – will be part of the Nobel Week festivities. Today organisers are revealing what locations will be illuminated during the December darkness. One of this year's innovations is that Västerbron – a long double-arched bridge west of the city centre – will display a work inspired by Nobel Prize laureate Marie Curie.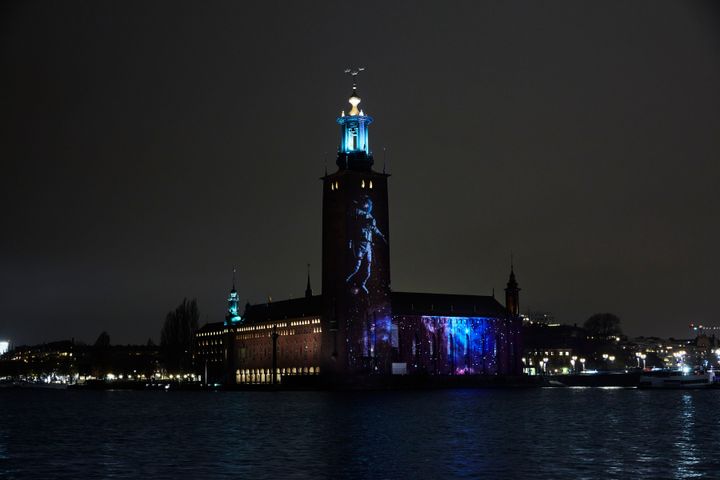 Nobel Week Lights Stockholm got off to a fantastic start last year, with an estimated 200,000 visitors. Most of the places that were featured in the 2020 project are back this year with lighting installations. This year, new sites such as the Brunkeberg Tunnel and the Museum of Far Eastern Antiquities are being added. The around 20 artistic lighting installations have all been inspired in one way or another by the Nobel Prize and by Nobel Prize-awarded achievements.
Among the participating artists and lighting designers are:
Fredrik Jönsson, who has illuminated hundreds of musical artists in Melodifestivalen (Sweden's annual competition for the Eurovision Song Contest) and has won several major lighting design awards, is creating an installation at Strömparterren – a small waterside park below the Swedish Parliament. Inspired by 2009 physics laureate Charles Kao, he is using fibre-optic cables to provide a magnificent play of lights extending far into the sky.
Emma Hjortenklev Wassberg, who last year decorated one of central Stockholm's Hötorget skyscrapers with the words I want to hold you in my arms but can't, is back again. This time her inspiration comes from Nobel Prize laureate Marie Curie. Västerbron will be illuminated with the green glittering light often associated with radium, while the natural shape of the bridge is reminiscent of electromagnetic radiation and wave motions that propagate through time and space.
One of last year's most acclaimed installations was the projection of images from outer space on to the façade of Stockholm City Hall. This year the perspective will shift to images of the earth, as seen from space. The installation Earth from Space is being created by PXLFLD.
Above the Nobel Prize Museum and Stortorget (the main square in Stockholm's Old Town), Italian lighting artist Alessandro Lupi is creating a net with mirrors that will reflect light from the surroundings onto the square, day and night. The installation Fragments of Reality draws its inspiration from the extensive networks and collaborations that so many laureates emphasise are crucial to achieving scientific advances.
Here are the locations of all installations during Nobel Week Lights 2021:
Stockholm City Hall, the Royal Dramatic Theatre, Sergels torg (a central square), Stockholm City Museum, the Nobel Prize Museum, the Museum of Far Eastern Antiquities, Moderna Museet (the Modern Art Museum), Riksplan Park, Västerbron, Blasieholmstorg Square, the Brunkeberg Tunnel, the Stockholm School of Economics, Benny Fredrikssons torg (a street behind Kulturhuset), Tysta Marigången (a central pedestrian passageway), Karl XIIs Torg (a park behind the Royal Opera), Strömparterren, Skeppsholmen (an island near the city centre) and Skeppsholmsbron (the bridge to the island). Also included this year is a mobile lighting installation that will travel by bicycle. Four of this year's installations have been developed in collaboration with colleges and universities.
For further information about all the installations and the full 2021 programme, see:
https://nobelweeklights.se/?lang=en
Images from last year are to be found at:
https://nobelprize.org/press-images-nobel-week-lights
Nobel Week Lights Stockholm was initiated and produced by Annika Levin, Alexandra Manson, Lara Szabo Greisman and Troika AB. The event is part of the Nobel Week programme and is being implemented in a collaboration between the Nobel Prize Museum and the City of Stockholm with support from the Stockholm Chamber of Commerce and the Swedish National Space Agency as well as numerous other partners and artistic lighting companies. Nobel Week Lights Stockholm is a tribute to the Nobel Prize laureates and their contributions to the greatest benefit to humankind.
Estimates indicate that more than 200,000 people visited last year's Nobel Week Lights, and more than a million people were reached by the efforts that the Nobel Prize Museum made to publicise the light installations in social media.
Press contact
Rebecka Oxelström, Nobel Foundation
rebecka.oxelstrom@nobelprize.org +46 73 412 66 75
Contact for Nobel Week Lights
Lara Szabo Greisman (Co-Initiator and Co-Producer)
lara@nobelweeklights.se +46 76 244 90 40
Images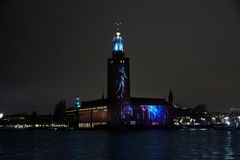 About Stockholms stad

Stockholms stad
Ragnar Östbergs plan 1
105 35 Stockholm
08 508 290 00
http://start.stockholm
I Stockholms stad arbetar cirka 40 000 personer. Du möter oss i skolan, på äldreboenden, i parken, när du ska söka bygglov eller går till simhallen för att träna. Stockholms stads verksamhet styrs av folkvalda politiker och organiseras i stadens förvaltningar och bolag.
Stockholms stad är en organisation med decentraliserat ansvar. Det betyder att besluten ofta fattas lokalt, så nära de berörda som möjligt.