RangeXtender™ from Brenderup Group
Brenderup Group lanserar i dag, en ny släpvagnsmodell som släpps 2022. Brenderup RangeXtender™ ger varje förare av elbil möjlighet till förlängd räckvidd, perfekt för den långa semesterresan i vildmarken eller bortom huvudvägarna.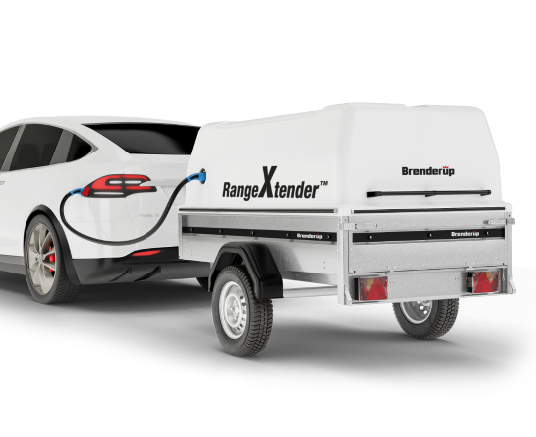 The RangeXtender™ ger en extra räckvidd med upp till 12 000 km - vilket är lika med en resa runt jorden. Förutom den utökade räckvidden är släpvagnen även som standard utrustad med 240Volt/16A-kontakt, perfekt för proffs som behöver ladda batteriverktyg på vägen eller annan elektrisk utrustning. RangeXtender™ är en släpvagn med ett inbyggt batteripaket vilket tar begränsat med utrymme från släpvagnens lastyta - det är ett platt batteripaket som täcker hela lastytan så standardfördelarna med släpvagnen är fortfarande desamma vilket ger extra utrymmet för din campingutrustning eller redskap.
"Denna nya trailer kommer definitivt att ge extra arbetsmöjligheter och vitalisera hela trailerbranschen, säger Daniel Blom, platschef och VD för Brenderup AB. Det här nya trailersegmentet kommer att ge nya kunder och ge kunderna den extra körfriheten utan att ge avkall på miljöaspekterna."
Funktioner och fördelar med Serie RX - RangeXtender™
• Batteripaket med hög kapacitet i tre storlekar
• 240Volt/16Amp standard elektriskt uttag
• Svetsat varmgalvaniserat stålchassi
• 6 interna kraftiga surrningsöglor
• Lågprofilskåpa
Serie RangeXtender™ är tillgänglig med start 2022-05-01, pris ännu ej satt.
För mer information om RangeXtender™ trailer, besök https:Brenderup/RangeXtender
Om Brenderup varumärke
Sedan starten 1936 har Brenderup varit på väg framåt och på vägen har våra trailers blivit ännu mer utrustade. Produktsortimentet har samtidigt växt och vi har tagit fram produkter för alla typer av transporter.
Idag är vi Skandinaviens ledande tillverkare av släpvagnar - så det är ingen slump att vi sätter tillförlitlighet, funktion och modern design, samt bästa möjliga säkerhet högst upp på agendan. Vårt breda utbud av tillbehör gör våra trailers extra flexibla. Brenderups produktsortiment gör det möjligt att täcka ett brett spektrum av olika behov och baserat på erfarenhet kan vi guida dig till en trailer som passar dina nuvarande behov, samtidigt som den erbjuder tillräcklig flexibilitet för att möta framtida behov.
Du kommer att kunna lita på vår produkt i många år och för många olika ändamål. Vår erfarenhet, tillsammans med vårt stora nätverk av återförsäljare och kunder ger oss möjlighet att utveckla moderna produkter, med vår kombination av design och funktion som gör transporten av ditt gods enkelt - produkter du använder med stolthet!
Contacts
Press contact: Anders Horvath
Company: Brenderup AB, Transportvägen 7, 556 15
Phone/mobile: +46 36 18 19 50
E-mail: anders.horvath@brenderupgroup.com

About Brenderup Group
About Brenderup Group
Brenderup Group's well-known brands such as Brenderup, Fogelsta, Ellebi, OneWay, Transparts and 24Rental provide customers with reliable and easy-to-use trailers as well as a wide range of accessories. The product range includes leisure, professional, boat and snowmobile trailers, accessories and spare parts. The products are used for private, professional and semi-professional applications. Brenderup Group is also the market leader in trailer rental in Scandinavia with Europe's largest trailer fleet
Brenderup Group has 400 employees and sales of SEK 1 billion. The group has it headquarter in Malmö and operates a production facility in Wieleń, Poland and an assembly plant in Stigamo, south of Jönköping. Sales offices are located in Sweden, Norway, Denmark, Poland, Germany, France and Italy.
Brenderup Group is part of Storskogen Group, a well-diversified group of about 105 business units with a total annual turnover at the end of December 2021 of about SEK 23 billion and 9 000 employees. Storskogen Groups' success can be attributed to the long-term perspective and the focus on the driving forces for entrepreneurship.