RENJER PRESENTS: ZERO WASTE – JERKY CRUMBLE
The corona crisis made the three founders Tim, Anton and Alex rethink many parts of their business. Since B2B sales in several channels have been struggling, the team didn't only focus on re-launching their assortment in improved quality, design and new flavours, but also managed to grow their B2C sales by 400% compared to last year.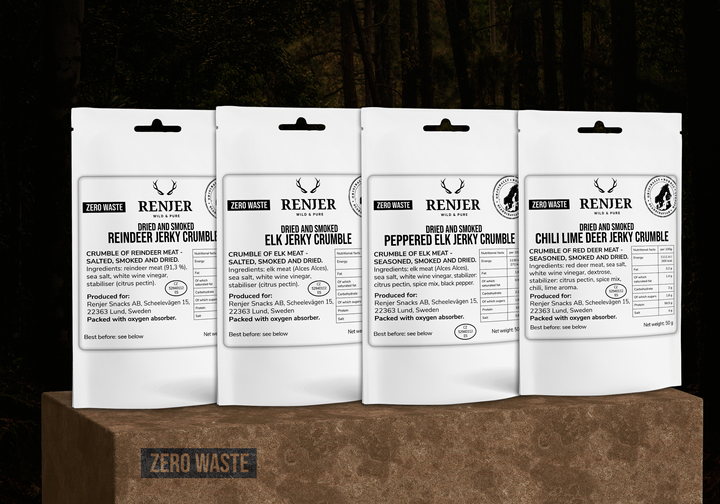 In accordance with the company's philosophy, the use of environmentally friendly raw materials is a matter of course, but waste is often produced even when using sustainable foodstuffs. After the successful relaunch of the RENJER assortment in June, the production process in the new factory was investigated and delicious cutting rests too good to be thrown away were discovered. Even when using eco-friendly raw materials, the production process of food products can often cause waste.
"In jerky production of a high-quality brand for instance cutting rests can be such waste of the main product, which shouldn't be thrown to the garbage. They are not only edible, but even taste as delicious as the main products, so why not eat them?" , says Alex Kirchmaier, the CEO of RENJER.
Although they are tasty, customers would complain or at least not appreciate to get the smallest pieces of crumble in their jerky bags, he further explains. Therefore, it's always a compromise between minimising waste and customer satisfaction. As a start-up RENJER sees it as their obligation to question such a trade-off. Aligned with the team's vision for sustainable and highquality meat snacking, they thought about other innovative ways to eliminate waste while ensuring quality. The conclusion was simple yet delicious.
The customers of RENJER's booming e-commerce will be spoiled with 4 new unique products – ZERO WASTE Jerky Crumble – in 50g bags of four tasty flavours (reindeer, red deer and two variations of elk - obviously). The products have no fancy design, no marketing, no sales efforts, and are exclusively available in RENJER's own web shop. From now on, every production batch will include a very limited amount of this jerky crumble – as long as stock lasts.
"Avoid waste while indulging yourself – that's RENJER's ZERO WASTE Jerky Crumble", Alex Kirchmaier concludes proudly.
---
Corporate Communications Renjer Snacks AB Alex Kirchmaier Scheelevägen 15 SE-22363 Lund Tel.: +46700066174. E-Mail: alex@renjer.ky
Renjer Snacks AB is the world's leading producer of wild game snacks. RENJER brings the rare and unique flavours of the North to consumers who value sustainable raw materials, taste and quality. www.renjer.ky. Facebook/Instagram: @renjer.ky
Images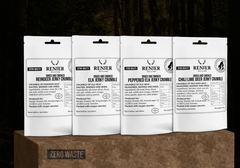 About Ideon Science Park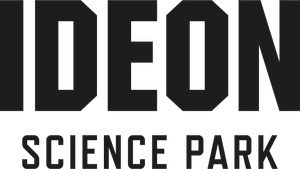 Ideon Science Park
Scheelevägen 17
22370 Lund
+46 46 286 85 00
https://ideon.se/
Ideon Science park har kommit att bli en plats där framstående innovationer skapas och spännande tillväxtbolag tar avstamp. Multinationella företag som Axis, Ericsson och Qlik härstammar från Ideon som grundades 1983 i samarbete med Lunds universitet. Flera av världens största innovationsbolag har utvecklingskontor eller samarbetsinvesteringar på området. På Ideon finns en unik mix av kompetenscentra, vilket är vår stora styrka i en värld där branscherna glider samman. Här finns också tillgång till laboratorier av högsta standard, vilket gör Ideon Science Park till en dynamisk tillväxt- och kunskapsmiljö för utvecklings- och forskningsbolag i världsklass. Ideon Science Park arbetar med fyra fokusområden; Future Transportation, Smart Cities, Connected Health och Smart Materials.