South African multi artist William Kentridge at the Royal Dramatic Theatre in Stockholm
It has been confirmed, that the South African artist William Kentridge's double bill SIBYL will be performed at the Royal Dramatic Theatre in Stockholm, Sweden 10-11 April in 2021. Starting with a world premier of the 22-minute film with live score The Moment Has Gone and concluding with his 42 minute chamber opera Waiting for the Sibyl, this is a singular program of Kentridge's work never before seen together. In connection with his visit, William Kentridge will also give a Performance Lecture on his artistic practice. The guest performance is part of the new format for the Bergman Festival and tickets will be released in the autumn of 2020.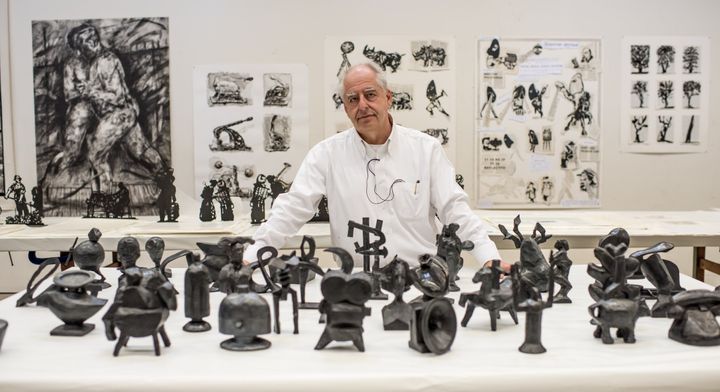 Waiting for the Sibyl, created in collaboration with choral director, vocalist and dancer Nhlanhla Mahlangu and composer Kyle Shepherd, is a piece for nine performers that unfolds in a series of 6 short scenes, interrupted and revealed by the dropping and raising of the front curtain. The work incorporates signature elements of Kentridge's visionary practice - projection, live performance, recorded music, and shadows cast by live performers on a hand-painted backdrop - to tell the story of the Cumaean prophetess Sibyl. She would write out a questioner's fate on an oak leaf and place it at the mouth of her cave on a pile of others' fates. But when you went to retrieve it, a breeze would blow up and swirl the leaves about, leaving you uncertain if you were learning another's fate or your own. The fact that your fate would be known, but you couldn't know it, is the deep theme of our relationship of dread, of expectation, of foreboding towards the future. Unspoken throughout but hovering over the opera is the fact that our contemporary Sibyl is the algorithm that will predict our future, our health, whether we'll get a bank loan, whether we'll live to 80, what our genetics will be.
The Moment Has Gone is a new 22-minute film with live piano score by Kyle Shepherd — one of South Africa's leading progressive pianists and composers -- and an all male South African chorus lead by Nhlanhla Mahlangu, that incorporates City Deep, the latest in Kentridge's series of Soho Eckstein films, and sequences of the artist creating the work. Interspersed throughout are images of the film's creation, the artist making the images-- always an action against destiny (a futile action). Made at the same time as Waiting for the Sibyl, The Moment Has Gone incorporates phrases and ideas that reappear in the chamber opera, and an appearance by Sibyl herself.
Performance Lecture: A Natural History of the Studio
William Kentridge will also give a Performance Lecture where he talks about his multifaceted artistic practice and the role and meaning of art. Art, says Kentridge, is a unique form of knowledge that cannot be fully explained in traditional academic terms. Drawing has the potential to help us understand the most complex issues. In his typical manner, Kentridge delivers a lecture on images and words, crafts and philosophical reflections and reminiscences about his work and the ideas that underpin it. The Performance Lecture is presented by Dramaten&.
Audience talk – The less good idea
On enriching artistic processes through interdisciplinary practices involving art, performances, video and drawing. The talk centres on Kentridge's project The Centre for the Less Good Idea, and William Kentridge himself will take part. It is organised in collaboration with the Swedish Arts Grants Committee and moderated by the director of Iaspis, Johan Pousette. Presented by Dramaten&.
William Kentridge was born in Johannesburg in 1955. His parents were barristers who were against the apartheid system. This had a strong influence on Kentridge's work. He is famous for his charcoal drawings and animations, which often deal with injustice and social problems in his native country. His breakthrough came in the 1980s, and he is now a celebrated international artist whose practice spans from drawings and animated films to installations and performance art.
Kyle Shepherd was born in Cape Town in 1987. Considered to be South Africa's most prominent jazz pianist and composer, he is also a talented singer and multi-instrumentalist, playing also the saxophone and guitar. Shepherd released his debut album, fineART, in 2009 and has since then toured South Africa with his own ensemble, the fineART Quartet. His music is influenced by traditional rhythms, melodies and harmonies, but also by other musicians, including Abdullah Ibrahim, Zim Ngqawana, Robbie Jansen, Keith Jarrett and Jason Moran.
The guest performance with Kentridge is part of the Ingmar Bergman International Theatre Festival 2020, which would have opened on the 27TH of August. Due to the Corona epidemic, it was decided that the festival could not be a cohesive meeting place for international performing arts as planned. Instead the Royal Dramatic Theatre will showcase guest performances throughout the year. During the autumn, more news and program items will be presented under the Bergman Festival's flag. Read the press release from April 2, 2020 here.
SIBYL is a co-production between Teatro dell'Opera di Roma, Les Théâtres de la Ville de Luxembourg and the Royal Dramatic Theatre.
Creative team
Concept/ Director: William Kentridge
Choral Composer/Associate Director: Nhlanhla Mahlangu
Composer/Music Director: Kyle Shepherd
Editing/ Compositing: Žana Marović
Costume Design: Greta Goiris
Set Design: Sabine Theunissen
Lighting Design: Urs Schönebaum
Cinematography: Duško Marović
Created and performed by
Kyle Shepherd (Piano) 
Nhlanhla Mahlangu (Vocalist/Dancer)             
Xolisile Bongwana (Vocalist/Dancer)
Thulani Chauke (Dancer)
Teresa Phuti Mojela (Dancer)
Thandazile 'Sonia' Rabede (Dancer)
Ayanda Nhlangothi (Vocalist)
Zandile Hlatshwayo (Vocalist)
Siphiwe Nkabinde (Vocalist)
Sbusiso Shozi (Vocalist)
Executive Producer
THE OFFICE performing arts+ film. Rachel Chanoff, Laurie Cearley, Lynn Koek, Catherine DeGennaro, Noah Bashevkin, Olli Chanoff, Diane Eber, Gabrielle Davenport and Chloe Golding. theofficearts.com. Toured in partnership with Quaternaire/Sarah Ford, Director.

Kentridge: SIBYL: Waiting for the Sibyl/The Moment Has Gone, April 10-11, 2021.
Performance Lecture: A Natural History of the Studio with William Kentridge, April 2021.
Audience talk – The less good idea, April 2021.