Stockholm hosts high level climate forum
In order to reach the climate goals, reducing consumption based emissions is key. And so are joint efforts together with the private sector and inhabitants. On the 1st June, the City of Stockholm invites mayors, CEO:s and other high level representatives from around the world in conjunction with the UN conference Stockholm +50.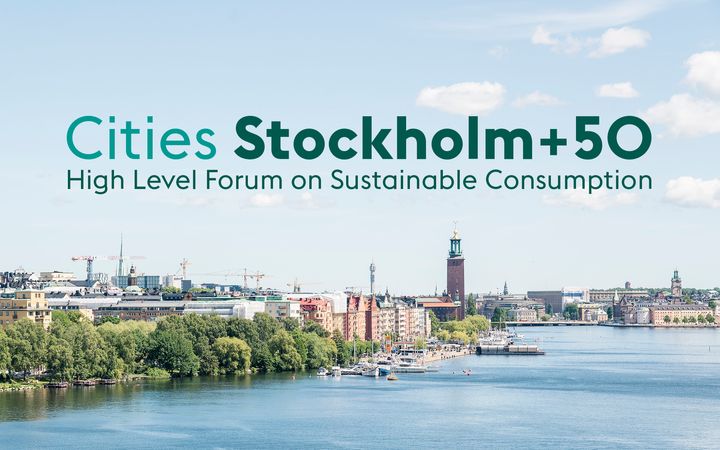 – Stockholm has hosted international climate meetings for more than 50 years. We are at the forefront when it comes to green conversion, cooperation with the private sector, and electrification. Since two-thirds of global energy consumption and emissions take place in cities, we must tackle this challenge from a holistic perspective together with mayors from other countries, as well as corporations and experts. Only together can we build the sustainable cities of tomorrow, says Anna König Jerlmyr, Mayor of Stockholm.
The high level meeting at The City Hall on the 1st June will focus on: emissions in the construction and food sector, sustainable city planning, civic engagement and technological solutions.
Mayors from a dozen international cities participate; Athens, Budapest, Milan, Cape Town, Helsinki, Riga and more. CEO:s from Ingka Group, Microsoft, Northvolt, Skanska and Sodexo are some of the corporate representatives. There will also be participants from the academic world as well as from international organizations, such as Maimunah Mohd Sharif, CEO of UN Habitats, Johan Rockström – the Manager of one of the world's leading center for climate and sustainability research, and Bertrand Piccard – the adventurer who was the first to fly around the world in a solar powered plane.
– During my mayorship, the City of Stockholm has further positioned itself on the global arena of climate issues. I am the Vice-Chairman of the global climate network C40, and we also play an active role on the World Economic Forum's board for sustainable cities of the future. Every city will have to deal with climate challenges and it's crucial that we find ways to successfully deal with those challenges together – on a global level, says Anna König Jerlmyr, Mayor of Stockholm.
In the first week of June, Stockholm is the host city for the UN conference that underlines the fact that it's been 50 years since the UN held its first climate conference ever here.
In addition to Cities Stockholm +50 High Level Forum, there will be a number of public events and activities at the square Sergels torg on 2–5 June.
Contact
Noah Kaplan, press secretery of the Mayor of Stockholm
Phone: 076-122 91 36
About Stockholms stad

Stockholms stad
Ragnar Östbergs plan 1
105 35 Stockholm
08 508 290 00
http://start.stockholm
I Stockholms stad arbetar cirka 40 000 personer. Du möter oss i skolan, på äldreboenden, i parken, när du ska söka bygglov eller går till simhallen för att träna. Stockholms stads verksamhet styrs av folkvalda politiker och organiseras i stadens förvaltningar och bolag.
Stockholms stad är en organisation med decentraliserat ansvar. Det betyder att besluten ofta fattas lokalt, så nära de berörda som möjligt.