The Royal Swedish Opera reopens with a winning combination of three new artistic directors
Michael Cavanagh is the new opera director, Ellen Lamm will be artistic director of Young at the Opera and music director is Alan Gilbert. This winning combination will be in place when the Royal Swedish Opera in Stockholm welcomes a 300-strong audience for the first time since March 2020. They met in person for the first time at their new workplace during Monday's press conference together with ballet director Nicholas Le Riche and CEO Birgitta Svendén. The opera, ballet and concert programme for the coming season was also presented.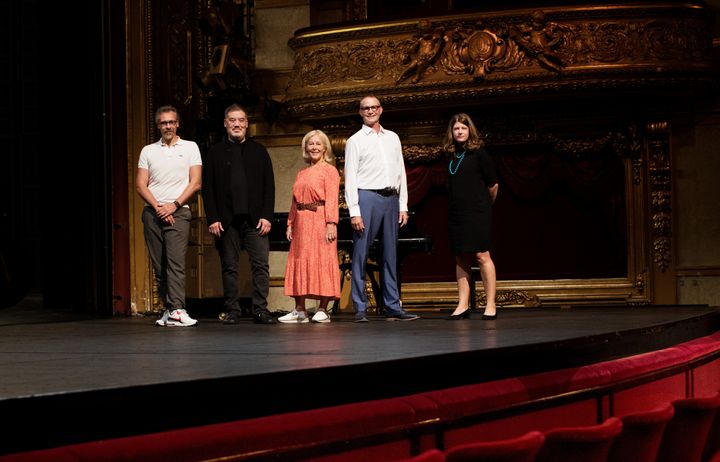 The 2021 autumn season is a restart for the Royal Swedish Opera in Stockholm. Apart from a short period last autumn, the opera house now opens for public events for the first time since March 2020.
"I don't think we have ever been longing as much as this for the autumn season to begin," says CEO Birgitta Svendén. "After several hundred days in a closed opera house we are almost euphoric in our desire to open again."
PREMIERES
The autumn programme includes two opera premieres: (Iolanta and The Snow Queen), two ballet premieres (Swan Lake and Bella Figura), and a spectacular gala evening with the Royal Swedish Ballet who perform highlights from the classical and neoclassical repertoire. Young at the Opera will appear in the world premiere of Station Illusion, a production for small children.
OPERA
First out on the main stage is Sofia Jupither's acclaimed production of Rigoletto. Rigoletto is sung by court singer Karl-Magnus Fredriksson who received nothing but praise for his interpretation, and the young soprano Hanna Husáhr is making her debut as Gilda. The duke is sung by Antonio Poli, and the conductor is Daniela Musca.
Tchaikovsky's Iolanta (directed by Sergey Novikov) was originally a major success at the premiere in St. Petersburg in 1892. A year later, it was staged at the Royal Swedish Opera, but has not been performed in Stockholm since 1929. The leading role is sung by the Russian soprano Olga Schheglova. Conductor is John Fiore. Iolanta is a collaboration with Helikon Opera, Moscow.
Leading roles in Leonard Bernstein's Candide are sung by Joel Annmo, Elin Rombo, Jeremy Carpenter and Miriam Treichl. Ole Anders Tandberg has previously directed acclaimed Mozart productions at the Royal Swedish Opera and most recently The Merry Widow. Bernstein's operetta premiered in spring 2020, then as now under the baton of Stefan Klingele.
Kirsten Harms production of Madama Butterfly has been sold out since it was first performed in 2014. Asmik Grigorian now returns in one of her star roles. "Grigoran was born to sing Madama Butterfly," said one of the reviews after the premiere. Pinkerton will be sung by Migran Agadzhanyan. Conductor is Vincenzo Milletari. Grigorian won the prestigious Opera Awards in 2019. She currently has great success with her Senta in The Flying Dutchman at Bayreuth.
Staffan Valdemar Holm's production of Wagner's Walküre has been recognised for its detailed characterization. Some of Sweden's foremost international Wagner sopranos come together: Iréne Theorin and Ingela Brimberg alternate as Brünnhilde. Cornelia Beskow sings the role of Sieglinde and Katarina Dalayman appears as Fricka. Wotan is sung by Greer Grimsley. Conductor is Operan's new music director, Alan Gilbert.
The Snow Queen is a new Swedish family opera suitable from the age of 5 based on H. C. Andersen's short story. It is a work by Benjamin Staern (music) and Anelia Kadieva Jonsson (text) and was first performed at Malmö Opera in 2016. Reviews of the premiere mentioned "a musical fairy-tale stage production of the highest intensity" and "absolutely brilliant". The Snow Queen is conducted by Cathrine Winnes and directed by Elisabeth Linton, who was appointed new opera director of Den Kongelige Opera in Copenhagen in June.
BALLET
The Royal Swedish Ballet Gala Evening is a smorgasbord of the very best and with the whole company on stage. There will be tulle and pointe, sylphs and swans, classical and neoclassical – everything from La Sylphide and the Dying Swan to more recent highlights of precision and beauty. The Royal Swedish Orchestra is led by Andrea Quinn.
A new combination of three master choreographers come together in Kylián/Ek/Forsythe:
Bella Figura, considered one of Jiří Kylián's finest works, was first performed at the Nederlands Dans Theater in 1995 and has since then been shown internationally to great acclaim. This is the first time it is performed at the Royal Swedish Opera.
In overboard, Mats Ek and dancers from the Royal Swedish Ballet create a work that is full of the energy, emotion and dynamics that makes this artist so unique. overboard is dedicated to thre artist Marie-Louise Ekman.
In the Middle, Somewhat Elevated, a modern classic by the great innovator William Forsythe,is a watershed in the world of ballet. After being commissioned by Rudolf Nureyev for L'Opéra de Paris in 1987, it has been performed worldwide.
Swan Lake – the ballet of all ballets with a score by Tchaikovsky – has undergone many revisions. After Nureyev's earlier versions of Swan Lake, his production at the Paris Opera in 1984 is considered his final version. Until now, it has never been shown in Sweden. Swan Lake is one of the most frequently performed ballets throughout the ages, it has been shown more than 830 at the Royal Swedish Opera. Swan Lake is conducted by Philippe Béran.
YOUNG AT THE OPERA
Young at the Opera's world premiere of Station Illusion on the Rotundan stage is a production for six to twelve-year-olds. The team led by Baroque expert Karin Modigh is expressing their love of French Baroque theatre. Music, dance, song, commedia dell'arte and stage sets come together and transform at breakneck speed. Mathias Terwander Stintzing appears as the architect Tessin.
CONCERTS
The autumn season opens with a star-studded tribute to art and science. The Anders Wall Foundation gala event will then (2 October) be shown at Folkets Hus och Parker cinemas nation-wide.
The Royal Swedish Orchestra will give three concerts in September. First Brahms Requiem – In Memoriam. Operan's new music director, Alan Gilbert, conducts the Royal Opera Chorus and soloists Christina Nilsson and Karl-Magnus Fredriksson in Gustav Vasa Church, Stockholm. The Royal Orchestra will then play chamber music in the Golden Foyer with music by Andrea Tarrodi, Elfrida Andrée and Antonín Dvorak. As part of the Stockholm Concert Hall Stenhammar festival, Tobias Ringborg will be conducting the Royal Orchestra in the composer's Symphony No. 2 and Piano Concerto No. 1 (soloist Stefan Lindgren).
The year will conclude with a New Year Gala featuring some of Operan's most preeminent soloists, the Royal Opera Chorus and graduate students from the University College of Opera together with members of the Royal Orchestra.
IN BRIEF
The Anders Wall Foundation Gala 28/8
Chamber Music Concert 3/9
Rigoletto, from 4/9
Brahms Requiem 11/9
Ballet Gala - PREMIERE 17/9
Iolanta - PREMIERE 2/10
Candide, from 16/10
Station Illusion –WORLD PREMIERE 23/10
Kylían/Ek/Forsythe – PREMIERE Bella Figura 28/10
Madama Butterfly, from 11/11
Die Walküre, from 20/11
The Snow Queen – PREMIERE 9/12
Swan Lake – PREMIERE 10/12
New Year Gala 31/12
Bilder