Uppsala Konsert & Kongress appoints Creative Advisory Board
As part of UKK's development plan and new ownership idea, a new Creative Advisory Board is now presented. Both Swedish and international, the eight members will bring their different backgrounds, experiences and perspectives together to point out the direction for future operations.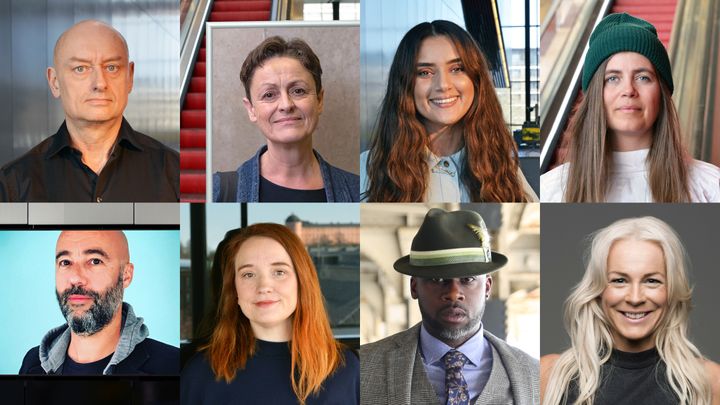 - An exciting, creative and "outside the box" assignment that I am more than happy to participate in. I wish it happened in more places within the cultural industry. Especially in these times, during the pandemic, we need each other more than ever, across all borders, says Malena Ernman, one the members of UKK's new Creative Advisory Board.
The Creative Advisory Board consists of people who have cutting-edge expertise and long experience of working with music in different genres, digital development, change management, concept development, social sustainability, and international exchange.
- The Creative Advisory Board will play an important role in strengthening UKK's local, national, and international networks. Its goal is to strengthen UKK's place in society and provide a breeding ground for sustainable collaborations, concepts, and renewal processes, says Henrik Lillsjö, CEO and Artistic Director at UKK.
Henrik Lillsjö believes the Creative Advisory Board will support and challenge the creative conversation and business development at UKK. The Creative Advisory Board is part of the organization's strategy to remain a leading meeting place for concerts, culture, conferences, and congresses in the future.
- Our aim and goal for UKK is to create a space that breeds high quality, magnificent and significant experiences and meetings that make a difference for Uppsala, Sweden and the world, says Henrik Lillsjö.
Allow us to introduce...
The following people have been appointed to be part of UKK's new Creative Advisory Board, starting in April 2021.

Hans Ek, border-crossing music arranger and conductor based in Uppsala. He is currently working on a collaboration between the Swedish Radio Symphony Orchestra and world star Zara Larsson, one in a long line of acclaimed collaborations where Hans combines classical music with other genres. In recent years, Hans Ek's own productions have been heard frequently both in Sweden and abroad. Examples include Bowie in Berlin, E.S.T. Symphony, Chelsea Hotel, Kosmische Musik, Made by Björk, Studio 54-Disco Inferno and Dance Music Symphony. He has also made film music, acted as artistic director for the Polar Music Prize ceremony for ten years and is frequently hired as a music arranger and conductor for national and international orchestras.

Cathy Graham (UK) has a noteworthy career and long experience of working with music in different contexts. She is based in England but has previously lived in Sweden where she worked for Folkoperan, Riksteatern, Norrlandsoperan and Vadstena-Akademien among others. In England, she has had several key roles within the music scene. She has worked for ENO Contemporary Music Studio, Almeida Opera, and the Society for the Promotion of New Music. Between 1997 and 2006, she was the executive director of the London Sinfonietta, and in 2006 she was appointed Director of Music at the British Council, where she currently works. Cathy is also chair of the award-winning charity Streetwise Opera. In 2019, she received the prestigious ABO Award from The Association of British Orchestras for her work in promoting orchestral music. Last year she received the honor of OBE (Officer of the Order of the British Empire) from Her Majesty Queen Elizabeth II for her work in creating relationships in music and culture.
- I look forward very much to contributing to UKK's creative advisory board and working with distinguished Swedish and international colleagues to explore the future of what a vibrant and dynamic music and conference center could look like. Throughout my career I have had a fascination for the dynamic interplay between the local and the international in arts organizations, and in making music and music-making available as widely as possible. The pandemic, along with climate change and the surging demand for equity and diversity in our sector, has created a potent moment in time for change and transformation, of art and of business models. I feel very privileged to be able to share and learn from colleagues in the country I count as my second home, says Cathy.

Jasmin Rastegar has been working with inclusion and representation in the creative industry for the past seven years and is currently working as lead editor at SVT Edit where she produces short documentaries in popular culture and contemporary issues. She is the founder of the company Gärigheter, a platform which strives to increase the representation of women and non-binary creators who are racialized in the creative industries. In the autumn of 2018, she launched the mentorship program "More steps forward!", with the aim of inviting industries, universities and colleges to work actively with diversity issues, and where sharing knowledge is the main focus.
- I have always been drawn to places that are driven by a willingness to change and have the desire to improve society for everyone, which is why working with UKK comes naturally for me. I look forward to opening up and challenging UKK's role in the creative conversations that can influence both Uppsala's cultural life and Sweden in general. Primarily to be able to share what I'm most passionate about; inclusion and diversity issues, says Jasmin Rastegar.

Nanna Bergh is the Design Director at the innovation studio EY Doberman which focuses on transformation, innovation, and customer experiences. Nanna's resumé includes a long list of significant assignments, and among many other projects she has worked with The Royal Swedish Opera's streaming platform (operanplay.se).
- Every day I try to combine people's needs with new technology. When you reach the core of both those components, things tend to happen which can be the basis for very drastic change. My hope and my belief is that this experience and driving force together with the other advisors' perspectives can play a pivotal role for the future, says Nanna Bergh.

Fabrice Gogendeau (FR) is a senior agent and project manager with extensive experience in the international music industry. He has been working as an international music agent at the 3D Family agency since 2001. As an agent, he has worked with some of the biggest names in jazz, world and folk music, including Salif Keita, Amadou & Mariam, Tony Allen, Macy Gray, Stanley Clarke, Hank Jones, Saul Williams, Pharoah Sanders, Fatoumata Diawara, David Murray, Les Amazones d'Afrique, Ester Rada, Bonga, Jupiter & Okwess, Mbongwana Star, Roberto Fonseca, Magic Malik and Omar Sosa. In addition to his work as an agent, he likes to develop various cultural projects that go hand in hand with social and humanitarian issues. Fabrice is based in Saint-Nazaire, France.

Johanna Beckman has a long track record from the Swedish music industry. She has worked as a booker and manager for artists such as Mapei, Dungen and Jenny Wilson and has been a concert and festival organizer. Before stepping in as Senior Creative Curator & promoter at FKP Scorpio's booking department last year, she was the Creative Director of the innovative club scene Trädgården/Under Bron in Stockholm. Johanna is also known for her work with the development and music booking of the Gagnef festival. She co-founded the venue Nobelberget in Nacka as well as the Swedish record company and artist collective Ingrid, which was founded in 2012 together with, among others, Lykke Li, Jocke Åhlund (Teddybears), Björn Yttling (Peter, Bjorn and John) and Pontus Winnberg (Amason).



Marc Bamuthi Joseph (USA) is a 2017 TED Global Fellow, a recipient of the Guggenheim Social Practice initiative, and an honoree of the United States Artists Rockefeller Fellowship. He is also the winner of the 2011 Herb Alpert Award in Theatre, and a recipient of the Doris Duke Performing Artist Award. He co-founded the Life is Living Festival for Youth Speaks, and created the installation "Black Joy in the Hour of Chaos" for Creative Time. Joseph's opera libretto, We Shall Not Be Moved, was named one of 2017's "Best Classical Music Performances" by The New York Times. His latest piece, "The Just and the Blind" premiered at a sold out performance at Carnegie Hall in March 2019. Bamuthi is currently at work on commissions for the Perelman Center, Yale University, and the Washington National Opera as well as a new collaboration with NYC Ballet Artistic Director Wendy Whelan. He joins Oprah Winfrey, Angela Davis, and a star-studded cast in HBO's screen adaptation of "Between the World and Me" by Ta-Nehesi Coates, which premiered in the Fall of 2020. Formerly the Chief of Program and Pedagogy at YBCA in San Francisco, Bamuthi currently serves as the Vice President and Artistic Director of Social Impact at The Kennedy Center.

Malena Ernman, who was born in Uppsala, is an opera singer and mezzo-soprano who over the years has performed on big stages all over the world. With her unique ability to move freely between different styles of music, she is an entertainer in the true sense of the word - a pioneering modern classical artist with a voice that spans almost four octaves. In 2009, she sensationally won the honor to represent Sweden in the Eurovision Song Contest with "La Voix". Most recently she played in the hit musical "Så som i himmelen", which sold out shows for two years before the pandemic started. Malena has received a number of awards and prizes over the years from, among others, King Carl XVI Gustaf, for her outstanding artistic contributions and for her engagement in environmental and climate issues. In addition to the assignment for UKK's Creative Advisory Board, Malena is also part of the jury for the Polar Music Prize and serves on the board of the Swedish Arts Council.
With support from The Friends Association of Uppsala Konsert & Kongress
The Creative Advisory Board is made possible with the support of The Friends Association of Uppsala Konsert & Kongress. The ordinances of the board are implemented twelve months at a time. The ordinances include participating in talks and meetings, both as a group and individually on selected issues, contributing their expertise and acting on the basis of UKK's ownership idea and vision.
- We want UKK to be a creative powerhouse for music and meetings in Uppsala. Thanks to the financial support of The Friends Association of Uppsala Konsert & Kongress, we can get advice from these knowledgeable, committed, and inspiring individuals, says Henrik Lillsjö.