Alvar Aaltos commissioned MoMA table to be sold at April auction
Stockholm's Auktionsverk in Helsinki has the great honor of selling a truly unique item on the international auction scene by renowned Finnish architect, designer Alvar Aalto.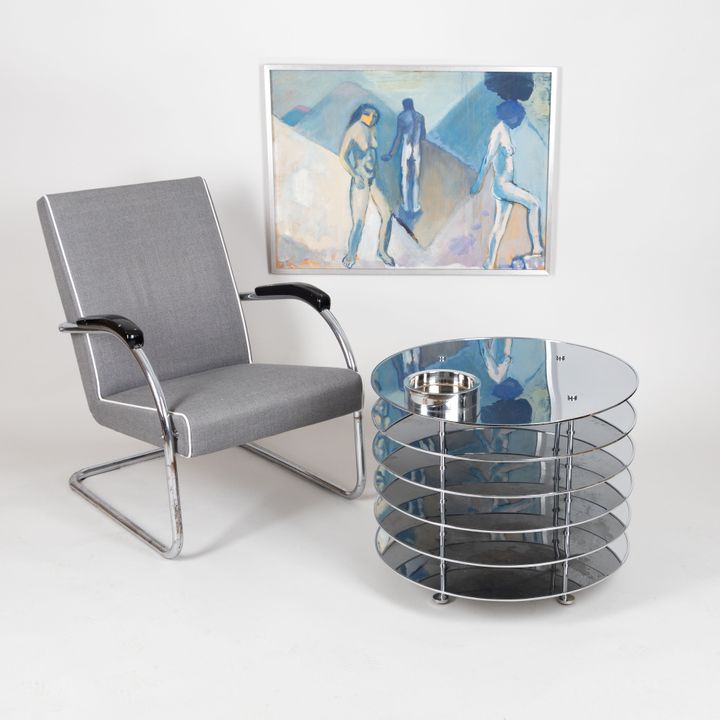 It is a round table with six nickel-plated shelves and a two-part ashtray on top of the tabletop. It is marked AA Valaistustyö Ky and manufactured in the years 1974–75.
The model for the table was designed by Aalto as early as the 1920s, but the first table had a smaller ashtray. In 1973–74, Aalto returned to the original round table with the six polished tops, which he now modernized with a slightly larger ashtray placed further out towards the table edge.
- "When you look at the table's functionalist design language with the round floors, it reappears in Aalto's architecture, for example in the Pemar sanatorium, and also in the luminaires Bikupan and Änglavingen" says Dan von Koskull.
The table would be of the highest quality and the address was already set – MoMA, New York. The table was a commissioned work by the museum and with this work Aalto would place himself in the same distinguished company as Ellen Gray, Ludwig Mies van der Rohe and Le Corbusier (pseudonym for Charles-Édouard Jeanneret), whom he greatly admired.
As fate would have it, the delivery was interrupted when Valaistustyö Ky's founder Viljo Hirvonen fell ill and died in 1975 and the company ceased to exist. The table never came on board the boat to New York and the following year Alvar Aalto also died.
The order to MoMA was never completed.
The table has been privately owned ever since and will now be sold at this spring's auction Modern Art & Design in Helsinki on April 24th.
The asking price is € 50,000–70,000.
About Stockholms Auktionsverk
Stockholms Auktionsverk was founded in the year 1674, on the initiative of Baron Claes Rålamb, who was Governor of Stockholm at that time. As such, we are the oldest auction house in the world still operating today. 
Today, Stockholms Auktionsverk is a leading Nordic marketplace for art, crafts, and antiques from a variety of ages and epochs. Stockholms Auktionsverk has auction houses in Stockholm, Gothenburg, Malmö and Helsingborg, as well in Helsinki Finland and Hamburg, Cologne and Düsseldorf in Germany.
Subscribe to releases from Stockholms Auktionsverk
Subscribe to all the latest releases from Stockholms Auktionsverk by registering your e-mail address below. You can unsubscribe at any time.
Latest releases from Stockholms Auktionsverk
In our pressroom you can read all our latest releases, find our press contacts, images, documents and other relevant information about us.
Visit our pressroom