Gothenburg tops world sustainability rankings for fourth consecutive year
Gothenburg is at the top among the world's most sustainable cities for the fourth year in a row according to the Global Destination Sustainability Index 2019. This was revealed on Wednesday at ICCA World congress in Houston.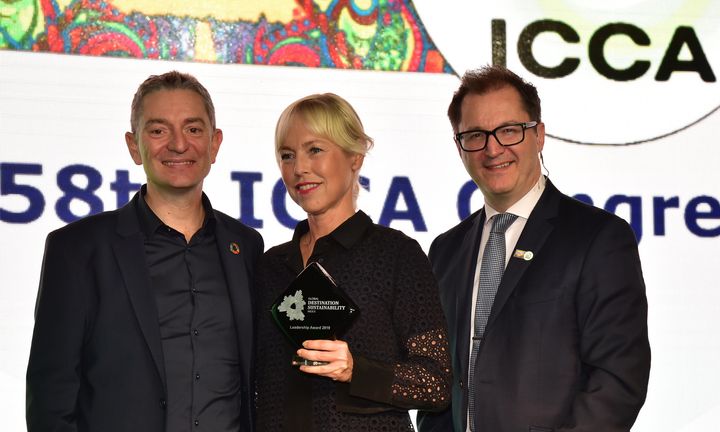 The GDSI was launched by MCI-Group together with the international organisation ICCA. On Wednesday October 30th, Annika Hallman, Director at Gothenburg Convention Bureau, was able to accept the award on behalf of Gothenburg:
"The GDS-Index has been a powerful lever in our sustainability work. It has helped us to improve performance and inspire others to become more sustainable. We have lectured and received study visits from other cities and used our top position to drive the sustainable development of the global meeting industry, as well as strengthening Gothenburg's profile as a leading congress and convention destination", says Annika Hallman.
The ranking was made for the first time in 2016 and this year the interest has been greater than ever, and the level of performance has improved. More than 50 cities and destinations participated and among the newcomers this year are Denver, Brisbane and Lyon. The top three cities were Gothenburg followed by Copenhagen and Zurich.
Another achievement was when Gothenburg recently was appointed European Capital of Smart Tourism 2020 by the European Commission. Here, too, the city's work on sustainability is a weighty reason and Gothenburg was also awarded the special award in the category of sustainability.
"More and more cities are looking at Gothenburg and next year there will be a major focus on how to work to become smarter in areas such as digitalization, accessibility, culture and sustainability", says Peter Grönberg CEO of Göteborg & Co.
GDSI measures all elements of sustainability: environmental, social and economic. But to gain a high ranking, it is not enough just to involve the hospitality trade, with facilities and hotels; the city as a whole must also be engaged in sustainability issues.
The cities are assessed based on several criteria: such as how effectively the city recycles and disposes of waste, environmental certification of hotels and restaurants, emissions of greenhouse gases, accessibility, the traffic situation, rental bike systems and whether both public and private stakeholders have sustainability strategies in place.
To find out more about the survey and the results for all cities involved, please see: http://gds-index.com/