Hankook iON Winter: nytt vinterdäck för elfordon
Neu-Isenburg, Tyskland, 29 september 2022 – Efter iON evo, Hankooks sommardäck, är det nya vinterdäcket Hankook iON Winter den andra medlemmen i den nya, globala däckfamiljen "iON" speciellt utformat för elfordon. Tillverkaren av premiumdäck syftar alltså till att främja elektrisk mobilitet även under den kalla årstiden.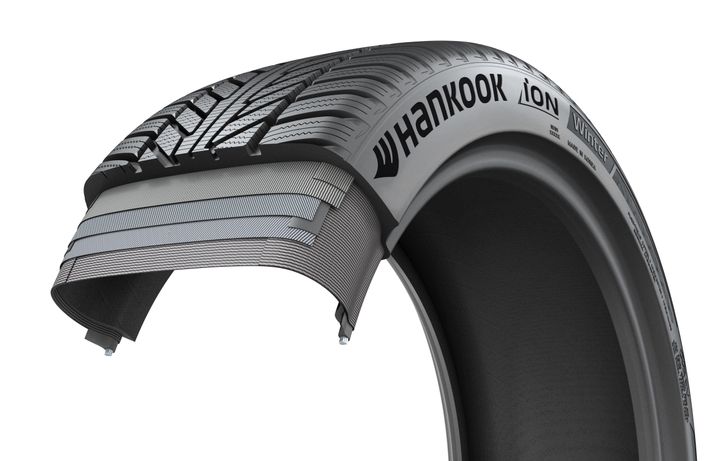 Det nya däckets egenskaper inkluderar minskat rullmotstånd och lågt buller från däcket vid körning. I jämförelse med traditionella däck innebär det här längre räckvidd per batteriladdning samt en mer komfortabel och bättre körupplevelse. Hankooks iON-produkter är dessutom speciellt utformade för att hantera, höga vridmomentet hos kraftfulla elfordon.
En speciell utmaning: vinterdäck för elbilar
Hankook iON Winter har en specialutvecklad slitbaneblandning som säkerställer lägsta möjliga rullmotstånd utan att ge avkall på prestanda på våta och snötäckta vägar. Naturliga oljor säkerställer det nödvändiga greppet, även vid låga temperaturer. Den exceptionella flexibiliteten gör att däcket anpassar sig till vägbanan och minimerar rörelser i profilen.
Buller från däcket vid körning är en speciell utmaning för vinterdäck. Den nya slitbanedesignen minskar märkbart buller som uppkommer på grund av den aktiva styrningen av ljudvågor. Den integrerade sound absorber™-tekniken minskar också ljudnivån inuti bilen. Samtidigt undviker aerodynamisk optimering ytterligare luftturbulens och minskar luftmotståndet. Detta har en positiv inverkan på både bullergenerering och räckvidd. Den höga halten silica ger ett väggrepp som motverkar att en farlig vattendyna bildas mellan vägyta och däck.
Hankook iON Winter kommer att finns tillgängligt i dimensioner från 18 till 22 tum.
Komplett presskit: www.hankooktire-mediacenter.com
- Bild och video finns på Presseportal -
Kontakt:
Larissa Büsch
PR Manager
+49 6102 8149-173
Om

news aktuell GmbH
Mittelweg 144
20148 Hamburg
+49 (0)40 4113-32589
http://www.newsaktuell.de
As wholly owned subsidiary of dpa, news aktuell provides business and organizations with effective access to media and consumers. Via the smart tools ots and zimpel, PR content accesses all media formats, including classical print, high click-rate online portals and social networks. In addition, news aktuell publishes all its customers' PR content on www.presseportal.de, one of the PR portals with the greatest reach in Germany. By this means, all the relevant multipliers are reached globally, from editors, via digital influencers right up to specialist bloggers and interested consumers. news aktuell has been on the market since 1989. The company, with a staff complement of more than 135, has its headquarters in Hamburg. Other offices are in Berlin, Dusseldorf, Frankfurt und Munich.