LGBTI+ activists awarded Human Rights Defenders of the Year Award
The 2022 Civil Rights Defender of the Year Award is given to the LGBTI+ activists Xheni Karaj from Albania and Frank Mugisha from Uganda, for their tireless fight for LGBTI+ people's rights in countries where homophobia, discrimination and violence is widespread.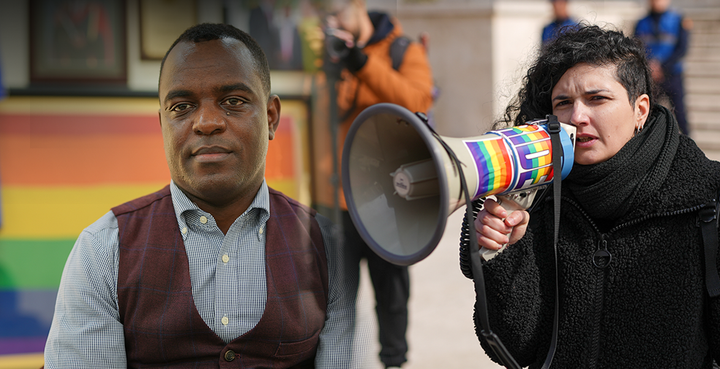 "Despite working in environments where homophobia is widespread, they continue fighting with impressive resilience, for every individual's right to have their own sexual orientation and gender identity. They have both been instrumental in building LGBTI+ movements in their countries and inspire LGBTI+ activists all over the Balkan region and East Africa," the Civil Rights Defenders Board of Directors writes in the motivation for the award.
The only publicly open lesbian woman in Albania
Xheni Karaj is one of the most influential LGBTI+ activists and feminists in Albania and the Western Balkans. She is one of the founders of Aleanca LGBT, a LGBTI+ organisation in Tirana that, among other things, organised Albanias first Pride parade in 2012, and one of the founders and president for the first shelter in Eastern Europe for LGBTI+ people that have been disowned and ostracised by their families.
The discrimination of LGBTI+ people in Albania is widespread. For years, Xheni Karaj was the only openly lesbian woman in Albania, after coming out on national television during a heated debate. When a politician in the debate panel said that he would shoot his son in the head if he came out as homosexual, and another contestant claimed that homosexuals do not exist in Albania, Xheni Karaj could not stay quiet. She stood up in the audience and asked for the microphone. She became the spokesperson for the Albanian LGBT+ movement over a night, a role that constantly exposes her to hate speech and harassment. Despite the threats, Xheni Karaj continues to fight to change the perception of homosexuals in the country.
Blocking law on death penalty for homosexuals
Frank Mugisha is one of the most prominent LGBTI+ activists in Africa, and executive director for Sexual Minority Uganda (SMUG), an umbrella organisation for organisations and grassroots groups working to improve the lives of LGBTI+ persons in Uganda. He and his organisation have organised pride parades, runs several shelters for LGBTI+ people and conducts an intensive work to change the perception of LGBTI+ people among local leaders, decision-makers, and ordinary Ugandans.
Homosexuality is illegal in Uganda. Being open about your sexual orientation or gender identity and advocate for LGBTI+ rights can be life threatening. Because of his sexual identity and advocacy work, Frank has faced hate speech and political harassment from Ugandan politicians. He has also been subjected to violence and death threats. In 2011, Frank's close friend and SMUG-founder David Kato was murdered after suing a tabloid for publishing the names of 100 LGBTI+ Ugandans with an inciting message to "hang them".  Since then, Frank Mugisha and SMUG spearheaded a nationwide effort to fight back public persecution in media and all forms of discrimination against LGBTI+ persons. In 2009, the Parliament in Uganda proposed the "Anti-Homosexuality Act", which would have broadened the already existing criminalisation of homosexuality to include the death penalty. SMUG, along with other activists and organisations, successfully advocated for the overturn of the bill by the Constitutional Court.
Comments about the Award
"LGBTI+ rights are human rights. The right to your sexuality, body, and gender identity, and in many cases the right to your life. Daily, people risk their lives for the right to love whoever they want. This year's recipients of the award have meant immensely for the progress of LGBTI+ rights in Balkan and eastern Africa," says Gabrielle Gunneberg, Global Programme Director at Civil Rights Defenders.
"The award makes me realise that we really have achieved a revolution in Albania. We started when people did not believe we existed in this country, they believed homosexuality was a disease you get from the West. We made people realise that we exist, that we are proud of ourselves and that we should have right to use the public space to share our stories," says Xheni Karaj.
"This prize shows that LGBTI+ rights are part of proper human rights. For us, it is a recognition that we are involved in advancing human rights work," says Frank Mugisha.
The prize is awarded annually by the human rights organisation Civil Rights Defenders to prominent human rights defenders. Previous awardees have included human rights defenders in Russia, Turkey and Burma. The purpose is to support and strengthen activists that with peaceful means continues to demand accountability, despite putting themselves in risk.
Contacts:
Do you want to know more or book an interview, please contact press@crd.org or +46(0) 76 576 27 62.
Additional information:
About Civil Rights Defenders

Civil Rights Defenders
Östgötagatan 90
SE-116 64 Stockholm
+46 (0)76 576 27 62
https://crd.org/sv/
An Expert Organisation for Human Rights

We partner with and support human rights defenders who work in some of the world's most repressive regions on four continents. Through advocacy, litigation, and public campaigns, we advance people's rights globally. We also act as Sweden's watchdog civil rights group.