Bylife, a Swedish startup, to demonstrate their Smart Living Wall at MWC2018, partnering with CLX Communication
Bylife, the 1-year old startup, recently awarded in Venture Cup Sweden as having one of the top 20 best startup-ideas, is plunging forward in their progress. Bylife will demonstrate their novel Smart Living Wall, with global cellular connectivity, together with Global CPaaS provider CLX Communications AB (publ) at the Mobile World Congress in Barcelona next week.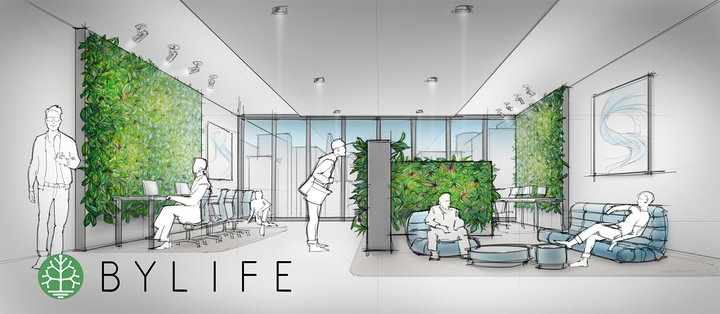 Bylife is a Swedish startup about to launch their connected living green wall, an indoor vertical garden used to improve air quality, reduce noise and provide health benefits in public and private spaces. For simplified maintenance and maximized lifespan of the plants, the living green wall is equipped with connected sensors, providing information on temperature, humidity and water levels. Bylife has used the DeviceRadio communication module, combined with the global CLX IoT SIM card, to equip their green walls with mobile communication capabilities.

Erik Wilson, co-founder and CEO at Bylife says: 'Living walls are the simplest way to introduce greenery to your workplace, resulting in personnel being both more productive, and less stressed out. The global trends of indoor biophilia are clear with for example Amazon, who recently opened their rainforest office in Seattle for maximized creativity, and Castellum, one of Sweden's largest real estate owners, building the first well-certified office complex in the Nordics. Awareness is finally reaching the decision makers, it is a truly exciting future we have ahead of us.' 
Hanna Johannesson, Product Director of IoT at CLX, says: 'It will be great to showcase Bylife and their product. They have a truly unique idea and it is a great example of how our technology will enable new IoT-solutions to be introduced to the global market from day one.'
With the demonstration of their Smart Living Wall at the Mobile World Congress in Barcelona, Bylife will also open up for pre-bookings for delivery of their product in early 2019. You can find their demonstration, together with CLX and DeviceRadio, from 26th of February - 1st of March, in Hall 8.1 on stand C41.
To learn more please visit: www.bylife.io