The 2018 Bergman Festival: Six premieres at the Royal Dramatic Theatre, nine guest performances and three dance works
On August 23, the fourth Ingmar Bergman International Theatre Festival opens at the Royal Dramatic Theatre (Dramaten), offering eleven days of guest performances from countries that include Iran, Germany, the Netherlands, Norway, Austria, Brazil, France and Belgium. Six new Dramaten productions will premiere during the festival, a screening of Jane Magnusson's forthcoming film, Ingmar Bergman: A Year, a Life. When the festival ends on September 2, more than 200 visiting actors, directors and theatre technicians will have convened on the national stage in more than 50 productions, discussions, workshops and film screenings.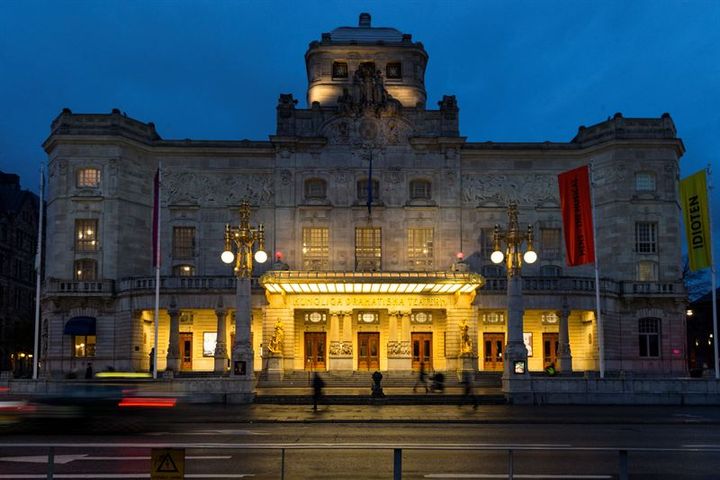 –The Bergman Festival is an important step in Dramaten's international outreach efforts. Establishing cooperation and exchanges across national borders contributes to an artistic growth that will benefit the audience as well as scenic artists. The festival is an important complement to our regular repertory, and Dramaten gives a warm welcome to spectators and guests during these eleven intense days, says, Eirik Stubø head of the theatre and artistic director of the Bergman Festival.
The anniversary year 2018, when Bergman would have turned 100, has drawn considerable attention around the world. This is also the case at Dramaten, where the Bergman Festival presents international guest performances of the highest quality. Among the attractions is the return, for the third time, of star director Ivo van Hove with the dual production After the Rehearsal/Persona. Simon Stone's Hotel Strindberg is a visually compelling production from the Burgtheater in Vienna featuring the renowned actor Martin Wuttke. Belgian tg STAN's Infidèle (Faithless) celebrates the dynamic, humorous side of Ingmar Bergman as a writer. In Dancing with Bergman, three internationally famous Swedish choreographers, Mats Ek, Alexander Ekman and Johan Inger, honour Ingmar Bergman with a new work apiece. In addition, the Iranian Mehr Theatre Group presents the interrogation drama Hearing, and Danish performance artist Madame Nielsen returns to Dramaten with Topographies of Paradise, a unique collaboration weaving together five productions from five European theatres.
The festival will also feature a screening of Jane Magnusson's film Bergman: A Year, a Life, depicting Bergman's life and work during 1957. The film has its world premiere at the Cannes Film Festival.
All this and more is on the programme, which also includes discussions, lectures, film screenings, exhibitions and much more. The entire programme of the Bergman Festival is presented below. All performances have English surtitles.
INVITED INTERNATIONAL PLAYS
Internationaal Theater Amsterdam/Toneelgroep Amsterdam (The Netherlands); After the Rehearsal / Persona by Ingmar Bergman
Acclaimed director Ivo Van Hove returns to Dramaten with visually striking double performance
Belgian theatre director and artistic director of Internationaal Theater Amsterdam Ivo van Hove has built a long and intense relationship with Bergman's oeuvre as a director. This has in the past resulted in the productions Scenes from a Marriage (2005) and Cries and Whispers (2009). With the diptych After the Rehearsal / Persona he continues his study of the Swedish film and theatre maker.
Both scripts walk the thin line between imagination and reality, illness and normality. Both explore the meaning of art in our lives and in society. As always, Ingmar Bergman does this with great personal intensity and humanity, uncompromising and compassionate.
In After the Rehearsal director Hendrik Vogler organizes his life within the confines of the rehearsal space. His life is completely enveloped by his work. The rehearsals are like notes in his personal diary, and the performances form his autobiography. Everything is submitted to his imagination and control. Yet it becomes apparent that life and reality cannot be kept at bay after all. Love, birth, decay and death seep into his bastion in the shape of Anna and Rachel, who appeal to him as an artist and a human being.
In Personaan actress stops playing. In her mind a short circuit occurs between the roles she plays in real life, and the ones she plays on stage. The role of motherhood poses her with insurmountable problems and destroys her self-image. Again, life (pregnancy and birth) tears someone away from the controlled role play of the theatre. Her struggle with other people's expectations and the deep crisis that ensues also force the doctor and nurse who take care of her out of the safe reaches of their conventional lives.
Author: Ingmar Bergman Director: Ivo Van Hove Translation: Peter van Kraaij (Persona), Karst Woudstra (After the rehearsal) Dramaturgy: Peter van Kraaij Cast: Gaite Jansen, Gijs Scholten Van Aschat, Lineke Rijxman, Marieke Heebink. Set Design/Light design: Jan Versweyveld Sound Design: Roeland Fernhout   Costume Design: An D'Huys Coproduction: Théâtre de la Place (Liège), Théâtres de la Ville de Luxembourg, Maison des Arts de Créteil
The production was realised in collaboration with Auteursbureau ALMO bvba commissioned by Josef Weinberger Ltd, London and the Ingmar Bergman Foundation.  
31 August and 1 September Stage: Subtopia, Alby. Introduction before performance 31 August and discussion after performance 1 September.

tg STAN (Belgium); Infidèles by Ingmar Bergman
A playful tribute to the humoristic side of Ingmar Bergman's authorship.
Following on from Scènes de la vie conjugale (Scenes from a Marriage) and Après la répétition (After the Rehearsal) in 2013, the Belgian theatre company STAN once again turns its attention to Ingmar Bergman's oeuvre. The need to delve more deeply into Bergman's work is shared by actor Robby Cleiren, who has previously been involved in STAN productions, including Betrayal, The Monkey Trial and The Cherry Orchard. His company, de Roovers, is coproducing this new play. For the first time they are working with Ruth Becquart, best known in recent years for her television work.  
Infidèles is based on the eponymous script from 1996 and Bergman's autobiography Laterna Magica published in 1987. The play is intended as a tribute to Ingmar Bergman and first and foremost to Bergman the writer. In Infidèles Bergman himself goes into dialogue with his characters and the first-person narrator is incorporated in the piece. This exploration of the autobiographical dimension of his work is not reduced to voyeurism, confession or psychologization, but shows how subtly and ruthlessly Bergman exposed human relationships.
The uninhibited theatrical reading will throw into relief the discernment and humanity, the vitality and humour of Bergman's oeuvre. The piece will be an unaffected tribute, a declaration of love, a gesture of respect and admiration, but one that avoids idolatry.
STAN, also known as Stop Thinking About Names, are a part of the series of guest performances during Bergmanfestivalen at the Royal Dramatic Theatre in Stockholm 2018.
Text: Ingmar Bergman Direction and cast: Ruth Becquart, Robby Cleiren, Jolente De Keersmaeker and Frank Vercruyssen.
31 August and 1 September Stage: Målarsalen. Introduction before performance 31 August and discussion after performance 1 September.

Production Internationales (Norway/France): Dancing with Bergman Centenary 1918-2018;
Three generations of Swedish choreographers celebrate Ingmar Bergman
For the very first time, three generations of Swedish choreographers will come together on stage to celebrate one of their most renowned countrymen – film-maker Ingmar Bergman, who Mats Ek was fortunate enough to work with over a period of several years.
Ek was artistic director of the Cullberg Ballet Company, and is considered one of the greatest and most respected choreographers and dancers of our time. He will be on stage together with his regular dance partner Ana Laguna.
Mats Ek is joined by Alexander Ekman and Johan Inger, two effervescent personalities within the realm of international choreography. Their compositions combine both classical and modern dance, and the dramatization allows the dancers to display enormous power, as witnessed in Ekman's ballet Midsummer Night's Dream and Inger's Rite of Spring at the Royal Swedish Opera.
Through his films, Ingmar Bergman proved himself a master of the art of analyzing family dynamics and human behavior. By exploring this "family feeling the three choreographers make their contribution to the centennial celebration of this legendary film-maker.
Choreographies: Mats Ek, Alexander Ekman, Johan Inger Video Designer Bengt Wanselius     Technical Director Jörgen Jansson Co-production: Productions Internationales Albert Sarfati / Norwegian National Opera & Ballet
4 Karin;
Koreografi: Johan Inger   Performed by Anna Herrmann, Nina Botkay, Olivia Ancona, Alva Inger Armenta   With the video participation of Heléne Friberg   Dramatist : Gregor Acuña-Pohl   Set Designer : Curt Allen Wilmer Costume designer Mai Canto and Johan Inger Lights Designer : Jörgen Jansson Music : Monteverdi « Il Ballo delle Ingrate, SV.167 » (1608) Recording Arts Florissants, conducted by William Christie (1983)
Thoughts on Bergman;
Choreography: Alexander Ekman Solo performed by: Alexander Ekman Text: Alexander Ekman/Ingmar Bergman Music: Chopin nocturne No. 2 in E flat major Op.9
Memory (2000-2018)
Choreography: Mats Ek Performed by: Ana Laguna and Mats Ek Lights Designer: Jörgen Jansson Music: Nico Rölcke  
2 September Stage: Stora Scenen
The International Brazilian Opera Company (Brazil); The Seventh Seal Concert, text by Ingmar Bergman, music by João MacDowell
World premiere of the opera based on Ingmar Bergmans film
The International Brazilian Opera Company and the Swedish-Brazilian Cultural Association will present the world concert premiere of The Seventh Seal Concert, a new work by composer João MacDowell with text from Ingmar Bergman's film of the same name. The concerts will be conducted by David Lundblad and directed by Bengt Gomér.
The Seventh Seal, considered a classic of world cinema, follows the story of a disillusioned crusader's return to his plague-ravaged homeland and subsequent chess match with Death. The opera will be sung in Swedish with English subtitles. In addition to the two concerts, the public is invited to an open rehearsal and master classes in directing and composition.
By: Ingmar Bergman Music: João MacDowell Director: Bengt Gomér Music Director: David Lundblad
28 August and 1 September Stage: Moderna museet.
Burgtheater (Austria); Hotel StrindbergbySimon Stone
Cinematic hotel cavalcade about the life and work of August Strindberg
In Hotel Strindberg the audience enters Strindberg's mind, into the neural pathways to his life and works. Above all it's about love and conflict between man and woman, or 'love-hate' as Strindberg himself called it. The story line draws on Strindberg's biography as well as several of his books: The Father, A Madman's Defence, The Son of a Servant. Parallel events and dramatic occurrences are played out in front of the audience. Taken together, they evoke a society, an era.
Hotel Strindberg is a kind of magical device creating an intense, bracing and breakneck group effort involving actors, technicians and dressers. The cast includes Martin Wuttke, one of Germany's most prominent actors, who has achieved international renown through his film work, including the role of Hitler in Quentin Tarantino's magnum opus Inglourious Basterds (2009).
The director, Simon Stone, was born in Switzerland and grew up in Australia. Throughout his career he has actively promoted original and visually striking productions where radical reworking brings the classics to life in a contemporary context. In his stagings Stone wants to reach the same people who fervently love the most popular present-day films and TV series.
Direction: Simon StoneDramaturgy: Klaus MissbachCast: Franziska Hackl, Barbara Horvath, Roland Koch, Caroline Peters, Max Rothbart, Aenne Schwarz, Michael Wächter,Martin Wuttke, Simon ZagermannMusic: Bernard MoshammerSet design/Costume Design: Alice BabidgeLight design: Michael Hofer
30-31 August. Stage: Stora Scenen. Introduction before performance 30 August and discussion after performance 31 August.
Maxim Gorki Theatre (Germany): Roma Armee by Yael Ronen & ensemble
At a time when Europe is at risk of drifting into neo-fascism, a group of actors is calling for a Roma army for the purpose of self-defence.
At a time when Europe is at risk of drifting into neo-fascism, a group of actors is calling for a Roma army for the purpose of self-defense. A rapid intervention force to fight structural discrimination, racism and antiziganism, but also as emancipation from an internalized role of victims. The actors are Romnija, Roma and Romani travelers from Austria, Serbia, Germany, Kosovo, Romania, England and Sweden. They are also Israeli-German-Turkish-Berlin Gadjé – that means that the Roma Army is supranational, diverse, feminist, queer. Initiated by the sisters Simonida and Sandra Selimović, they are entering the stage in a collective act of self-empowering artistic action with resident director Yael Ronen: through a joint research process, personal experiences, historical contaminations and contemporary incidents are explored and used to develop a play. Together with visual artists Delaine and Damian Le Bas from England, they sketch out a vision for a Safe European Home in Gypsyland Europe, as the Le Bas call it.
Idea: Sandra Selimović,Simonida Selimović By: Yael Ronen & ensembleDirection: Yael Ronen
26 August. Stage: Stora scenen. Introduction before performance and discussion after.
Les Hommes Approximatif (France/Vietnam); Saigon by Caroline Guiela Nguyen
Warm and moving journey in time and space about the legacy of the French colonization of Vietnam
Distance, whether it be historical or geographical, is a breeding ground of lies. This is one of the most powerfully stated truths in Saigon, a play of epic proportions.
Acclaimed at festivals and performed by both Vietnamese and French actors, Caroline Guiela Nguyen's new play Saigon oscillates across time and space, offering an analysis of the consequences of French colonialism in Vietnam and what has often gone unsaid. Saigon is the name of a Vietnamese restaurant in the 13th district of Paris, as well as the former name of Hô Chi Mihn City, which everyone insists on calling Saigon. Imagening Saigon you might think of tropical images of war of even things from American pop culture, partially concealing the collective memory of colonialism and the French debacle. It is this repress episode, the consequences of which continue to make themselves felt in the course of the lives it violently altered that Caroline Guiela Nguyen explores in Saigon, a generous melodrama that received standing ovations at its premiere during the Avignon festival. 
As the daughter of a Vietnamese immigrant, Caroline Guiela Nguyen, has written a play that could be qualified as second generation, meaning that it is not so much an indictment of colonization, than an examination of what has been left unsaid.
Text: Caroline Guiela Nguyen with the whole artistic team Dramaturgy Jérémie Scheidler and Manon Worms Direction: Caroline Guiela Nguyen Artistic Collaboration: Claire Calvi With Caroline Arrouas (Or Maud Le Grevellec), Dan Artus, Adeline Guillot, Thi Trúc Ly Huynh, Hoàng Son Lê, Phú Hau Nguyen (Or Diêm Nguyen), My Chau Nguyen thi, Pierric Plathier, Thi Thanh Thu Tô, Anh Tran Nghia, Hiep Tran Nghia Set Design Alice Duchange Costume Design: Benjamin Moreau Light Design: Jérémie Papin Sound and music design: Antoine Richard Composition Teddy Gauliat-Pitois Wigs Make-up Christelle Paillard
31 August-1 September Stage: Lilla scen. Introduction before performance 31 August and discussion after performance 1 September.
Mehr Theatre Group (Iran/France); Hearing by Amir Reza Koohestanis
Interrogation drama with young women in a secluded world.
The doors and windows had thousand kinds of fences, locks, barriers, with thick glasses and guards and the arrests at the entrance. After the entrance door, a female world begun in which the entree of any man was prohibited. Mahin, my girlfriend and actress of my latest plays – and probably the actress playing the role for the warden – who has lived in one the same University dormitories for a year, says: "If one technician was supposed to come and fix the air conditioner, before he came up, they would announce it in the microphone that way: 'Dear girls, please observe your hijab, a man wants to come upstairs'." Now, presume that in a situation like this, one day, a girl reported that she had heard a man in one of the rooms. This would be the starting point of the performance.
Text & direction: Amir Reza Koohestanis Cast: Mona Ahmadi, Ainaz Azarhoush, Elham Korda, Mahin Sadri Set design: Amir Reza Koohestani och Golnaz Bashiri Costumes and props: Negar Nemati Sound design: Ankido Darash Light design: Saba Kasmaei
27-28 August Stage: Lilla Scenen. Introduction before performance 27 August and discussion after performance 28 August.

Verk Produksjoner (Norway); Stalker 
A story about a film about a journey to a room
It all started when we (Verk) came across a new book by Geoff Dyers: Zona, the subject of which is the author retelling the whole of Andrei Tarkovsky's cult movie Stalker, whilst telling anecdotes from the time he saw the movie, references and personal observations.
After great number of interviews with people who had seen it when it first came out, it turned out that the movie Stalker was a significant experience for many people who grew up in the eighties and nineties. A lot of people saw the movie in the transition between the late teens and the early twenties, at a time in life when identity is formed and takes on its regular form. The movie can therefore also be perceived as a sort of rite of passage between the world of youth and the world of adulthood.
The movie describes a journey, an expedition led by a Stalker who brings his two clients to a place where supposedly there is a room that has the potential to grant a persons innermost wishes. This place is called the zone.
In Verks version we utilize people's memories of the movie and allow them to tell little stories and anecdotes from a period in their lives when their identity is still fragile. It turns out that no one completely remembers what happened in the movie, and no one quite manages to describe what the zone is. They remember it being of great significance but what it actually was is not clear to them today. In this way the performance becomes an account containing a number of viewings, omissions and misinterpretations. The production won the Norwegian theatre award Hedda in 2013 for "Best performance of the year."
By: Fredrik Hannestad, Saila Hyttinen Anders Mossling, Solveig Laland Mohn and Håkon Vassvik
Concept: Verk Produksjoner. Cast: Anders Mossling, Saila Hyttinen, Solveig Laland Mohn, Håkon Vassvik and Signe Becker Direction: Fredrik Hannestad Set Design: Signe Becker Sound design: Per Platou Light design: Tilo Hahn Text: Hannestad, Hyttinen, Laland Mohn, Mossling, Vassvik. Concept contributor: Anders Paulin Performance dramaturge: Jon Refsdal Moe Producer: Pernille Mogensen/Produsentbyrået Assistent: Vera Krohn Svaleng. Co-production: Black Box Teater, Teaterhuset Avant Garden and BIT Teatergarasjen. Funded by the Norwegian Art Council.
29-30 August. Stage: Elverket. Introduction before performance 29 August and discussion after performance 30 August.

THE ROYAL DRAMATIC THEATRE´S PREMIERES
Safe, by Falk Richter
The European continent is slowly disintegrating. Values are in flux. The perception of safety and security is changing. Something is missing. But what?
Where do I feel safe?The European continent is slowly disintegrating. Values are in flux. The perception of safety and security is changing. Something is missing. But what? In 2018, if you were to write a novel with Europe as the protagonist, what would the story be about?
In this work commissioned by The Royal Dramatic Theatre (Dramaten), Falk Richter investigates the complex dilemmas of contemporary human beings. As one of Germany's most prominent directors and dramatists, he pushes the limits of what theatre can be in productions that integrate video, text, dance and music in a massive tide.
Translator: Magnus Lindman Director: Falk Richter Choreographer: Falk Richter Cast: Ulriqa Fernqvist, Ana Gil de Melo Nascimento, Electra Hallman, Ruth Rebekka Hansen, Ninos Josef, David Lagerqvist, Razmus Nyström, Magnus Roosmann, Reuben Sallmander, Alexander Salzberger, Björn Vårsjö Video: Christopher Kondek Scenic design: Katrin Hoffmann Costumes: Daniela Selig Music: Helgi Jónsson and Valgeir Sigurðsson Lighting design: Carsten Sander Makeup and wigs: Melanie
World premiere 23 August Stage: Stora scenen. Introduction before performance.
Phoenix, by Ann-Sofie Bárány
Suzanne Osten returns to Dramaten with a world premiere about art and the renowned Russian poet Marina Tsvetajeva!
Marina Tsvetaeva, a renowned Russian poet, is consumed by the desire to gain access to the theatre. Armed with her new play, Phoenix, about a girl and an aged Casanova, she hunts down the city's busiest male theatre genius. Simultaneously the Russian revolution is taking place, throwing her bourgeois existence into turmoil. She has to fight for the survival of her children, and her soul.

Dramatist Ann-Sofie Bárány's Phoenix draws on Tsvetaeva's tumultuous life and artistic career. Tsvetaeva (1892-1941) was on a collision course against her own time. "She sought the absolute purity of the soul through poetry, language and -- for a brief moment -- the theatre. It is that moment, her concerted attempt to seduce the director Vakhtangov, that the play portrays", says Bárány.

Suzanne Osten is one of Swedens leading and most influential directors. At Dramaten she has previously directed Falling Out of Time. Previous collaborations with Ann-Sofie Bárány include Am I Comforting You Now? and In Anna's Closet. With new music by Malin Dahlström and Gustaf Karlöf from Niki & The Dove.
Director: Suzanne Osten Cast: Thérèse Brunnander, Siri Hamari, Emelie Johnsson, Elin Klinga, Hannes Meidal, Simon Norrthon, Martin SelzeScenic design and costumes: Anna HeymowskaLighting design: Torben LendorphMusic: Niki & The DoveMakeup and wigs: Mimmi Lindell, Nathalie Pujol
World premiere, 24 August Stage: Lilla scenen. Introduction before performance.

Madame Nielsen and five European theatres (Denmark, Germany, Serbia, Spain, Sweden) Topographies of Paradise
Madame Nielsen and five European theatres
Madame Nielsen gave an acclaimed guest performance at the 2016 Ingmar Bergman International Theatre Festival. Now she's back at Dramaten, examining contemporary Europe with X-ray vision.
Topographies of Paradise, or 'Idyllic Landscapes', is a unique collaboration among five European theatres: the National Theatre in Belgrade, Serbia; Theatre Lliure, the Catalonian National Theatre in Barcelona, Catalonia/Spain; the Academy of Performing Arts in Ludwigsburg, Germany; the Royal Danish Theatre, Denmark; and the Royal Dramatic Theatre (Dramaten).
We encounter five theatres with five short plays, woven together into one performance slated for its world premiere during the Ingmar Bergman International Theatre Festival. The theatres contribute actors and directors. Madame Nielsen writes the plays, drawing on travels in the five countries and interviews with actors as well as political organisations in the various cities. Directors from each of the five theatres put on a play using local actors, and Madame Nielsen stages the concluding performance integrating the five plays.
What is a nation? What is a home district? What is a native language? What does it mean to be Swedish, German, Spanish/Catalonian, Danish, Serbian?
Madame Nielsen is an internationally lauded performance artist and writer, appearing over the years in various guises, including Claus Beck-Nielsen and the nameless human guinea pig in Das Beckwerk ('The Beck-work'). She defies fixed identities and categorisations, continuously asking the question: What is a human being?
In autumn 2015 she accompanied on foot the stream of migrants along the Balkan route up through Europe from Greece to Denmark, a contemporary educational journey that she subsequently described in the novel The Invasion. Her novel The Endless Summer has been a major international success, translated into many languages, including Swedish (2016) and English (2018).
Topographies of Paradise is a collaboration within the international network MITOS21.
Scriptwriter and coordinating director: Madame Nielsen Director from Dramaten: Tobias Theorell
Cast Dramaten: David Book and Ellen Jelinek
24-25 AugustStage: Målarsalen. Introduction before performance.

A Night in the Swedish Summer, by Erland Josephson
A play based on the filming of Andrei Tarkovsky's final masterpiece, The Sacrifice.
"When film is not a document, it is dream. That is why Tarkovsky is the greatest of them all. He moves with such naturalness in the room of dreams. He doesn't explain. What should he explain, anyhow? All my life I have hammered on the doors of the rooms in which he moves so naturally", writes Ingmar Bergman in The Magic Lantern.
This is the actor Erland Josephson's story of working with film titan Tarkovsky. In a tender, humorous manner he describes the encounter between the Russian director and Swedish actors. While cast and crew wait in the summer night with increasing impatience, their view of play, life, language and art is challenged.
Erland Josephson worked with the great directors Ingmar Bergman, Andrei Tarkovsky and Peter Brook and won international acclaim with his many roles in film and theatre. As a writer he was especially praised for his portraits of Swedish and international actors and directors and his account of his years as Head of Dramaten.
Director: Eirik Stubø Cast: Erik Ehn, Lena Endre, Nina Fex, Thomas Hanzon, Tova Magnusson, Torkel Petersson Scenic design: Erlend Birkeland Lighting design: Ellen Ruge Makeup and wigs: EvaMaria Holm
Premiere 25 August. Stage: Elverket. Introduction before performance 25 August. 
Film: The Sacrifice after performance 26 August. Discussion after performance 26 August.
The Rite, by Ingmar Bergman
An aggressive theatrical work about the possibility of freedom in art and for human beings.
An obscene variety show number performed by three established actors has been censored. Now they are called to an interrogation by a judge who seems to want to uncover all their weaknesses. The trio of actors live in an intense but destructive symbiosis. The leader of the troupe, Hans, is married to Thea, who has a relationship with Sebastian – who in turn is in financial debt to Hans. After years of international success, their time together seems to be at an end. But will they really be able to manage on their own? When performing their number for the judge, however, the actors assume a position of power, while the judge is the one who is forced to cross-examine himself.
The Rite was originally a television film, broadcast in 1969. At Dramaten Emil Graffman has previously directed Herring at Cattelin and The Ugly One. His most recent production is Michel Nouellebecq's Submission at the Gothenburg City Theatre, where he has also directed classics such as Hedda Gabler and Miss Julie.
Adaptation: Lucas Svensson and Emil Graffman Director: Emil Graffman Scenic design: Emil Graffman
Cast: Maia Hansson Bergqvist, Johan Holmberg, Rasmus Luthander, Pierre Wilkner Costumes: Helle Carlsson Lighting design: Tobias Hagström Ståhl Makeup and wigs: Moa Hedberg (student trainee, Stockholm University of the Arts)
Premiere, 26 August. Stage: Tornrummet. Introduction before performance.
The Last Child, by Jörgen Dahlqvist (Young Dramaten)
A girl's own account of a traumatic event, inspired by Don Quijote and The Seventh Seal
"It was a completely ordinary day and the sun was shining and nothing is my fault. Actually. Because this isn't the way I wanted things to turn out".
One day Prissie comes to school and finds her best friend, Rickie, sitting drinking coffee with the older girls in the cafeteria. And as if that weren't enough, she's wearing different clothes. And as if that weren't enough, she says, "I became a grown-up yesterday". It's a catastrophe. Hardly surprising that Prissie loses her temper and that Rickie happens to fall into her clenched fist and that she runs as fast as she can across the schoolyard and meets Death, Harry Potter and Kato the Knight and sets off on adventures to overthrow the adult world.
The Last Child is a girl's own account of a traumatic event where reality soon blends with fantasy, inspired by sources as varied as Don Quijote and The Seventh Seal. The director, Erik Holmström, established himself with highly acclaimed puppet theatre productions at the Malmö Puppet Theatre. The Last Child is the second autonomous piece in Jörgen Dahlqvist's Girl's Land trilogy.
Director: Erik Holmström Cast: Rakel Benér Gajdusek Scenic design and costumes: Erika Magnusson
Lighting design: Jesper Larsson Makeup and wigs: The a Holmberg Kristensen 
World premiere, 26 August Stage: Lejonkulan. Recommended for age 13 and up. Introduction before performance.

Persona, Persona, Persona, by Dimen Abdulla
The nurse Alma talks and the patient Elisabet is silent, and then they merge with each other.
Social predators, masks, identity and camouflage are some of the themes that the dramatist Dimen Abdulla explores with actors Nanna Blondell and Bahar Pars in this new play, based in equal measure on Bergman's script and personal interviews with the actors themselves. In close collaboration, the actors and dramatist also serve as directors and are responsible for costumes and scenic design.
Bergman's 1966 film Persona is often considered his most eminent work. Dimen Abdulla's many previously staged plays include Unga Klara's attention-getting production of X. In 2015, she was selected to serve for a year as the first house dramatist at the Radio Sweden Theatre. Bahar Pars has played in The Marriage of Figaro and Marauders at Dramaten and is perhaps best known for the film A Man Named Ove, which was nominated for an Oscar. She has also directed the short films Rinkeby Swedish and Sundance-nominated The Turk Booth. Nanna Blondell has performed in Dramaten's The Mental States of Sweden, Don Giovanni and Götgatan as well as in many film and television roles.
Directors: Nanna Blondell, Bahar Pars, Dimen Abdulla Cast: Nanna Blondell, Bahar Pars Scenic design and costumes: Nanna Blondell, Bahar Pars, Dimen Abdulla Lighting design: Mira Svanberg Sound: Foad Arbabi
World premiere, 1 September Stage: Tornrummet. Introduction before performance.

ADDITIONAL EVENTS DURING THE FESTIVAL


Roma Theatre in collaboration with Dramaten: Smiles of a Summer Night, by Ingmar Bergman
Ice clinks in the glasses, crocket balls roll across the sun-drenched lawn and underneath the parasol sophisticated plans are being hatched. When dusk falls, repressed emotions rise to the surface. Assisted by a magic wine, a remarkable bed and a round of Russian roulette, complacent self-deception confronts youthful desire in the shimmering summer night. Ingmar Bergman's prize-winning comedy Smiles of a Summer Night, set in 1901 in a small Swedish town, is known for its audacious dialogue and colourful cast of characters. After a summer run on Gotland, the play will be performed two times only in Stockholm as part of the Bergman Festival.
Cast: Lia Boysen, Rachel Mohlin, Lena Strömdahl, Peter Eggers, Steve Kratz, Andreas Rothlin Svensson, Alexandra Drotz Ruhn, Joel Ödmann, Nathalie Sundelin Director: Hugo Hanse Dramatisation: Nina Ponten Scenic design/Costumes: Marcus Olson Makeup: Angelica Ekeberg Original music: Jacob Norlin
23 -24 August, Vitabergsparken outdoor theatre. Free admission.

European Conversations
How is European theatre doing? How do nationalistic trends affect culture? What will happen after Brexit? What does the threat to artistic freedom signify in countries such as Poland, Hungary and Russia? A series of international conversations about the present. The final conversation in the series takes place during the Bergman Festival with the Maxim Gorky Theatre, which deliberately strives to widen on-stage representations by presenting stories that investigate questions about ethnicity, gender and class.
25 Augusti. Stage: Målarsalen. Free admission.

Discussion: A Night in the Swedish Summer
A discussion after the performance of A Night in the Swedish Summer, about Andrei Tarkovsky and his close relationship to his actors and co-workers, in particular his favourite actor, Erland Josephson.
Participants: Layla Alexander-Garrett, interpreter during the filming of The Sacrifice; Marina Tarkovskaya, author of the book Shards of a Mirror, about the Tarkovsky family; and Eirik Stubø, director and head of Dramaten.
26 August Stage: Elverket. Free admission.

Film: The Sacrifice
The Russian filmmaker Andrei Tarkovsky's final film, The Sacrifice, with Erland Josephson in the lead role. The film, an artistic last will and testament about inherent human potential, focuses on an approaching catastrophe that threatens humanity. The Sacrifice was filmed on Gotland in 1985 and awarded the Grand Prix at Cannes in 1986, the year Tarkovsky died in Paris at age 54. The film screening is part of the scenic design in A Night in the Swedish Summer. Introduction by Layla Alexander-Garrett, Tarkovsky's interpreter during the filming of The Sacrifice and a close friend.
26 August Stage: Elverket.

Introduction and Music: Autumn Sonata
'Autumn Sonata was conceived in a few night-time hours after a period of total writer's block'. A day before the guest performance of the opera Autumn Sonata (concert version) at Berwaldhallen on August 27, we hear Ingmar Bergman's own words about the film, taken from workbooks and the book Images. 
With actors from the Dramaten ensemble and musical selections for cello. Magnus Florin is the cicerone.
26 August Stage: Dramatenbaren. In collaboration with Berwaldhallen and the Baltic Sea Festival. Free admission.

Work in progress: The Bergman Studio
A think tank for new drama, the Bergman Studio will present work in progress with actors reading sections of the dramatists' texts and a discussion of the philosophy underlying the Bergman Studio.
Participating dramatists: Lisa Langseth, Dimen Abdulla, Lidija Praizovic, Dennis Magnusson, Maria Tryti Vennerød, Tanja Lorentzon, Andreas T. Olsson, Alexander Ahndoril and Jacob Hirdwall. Director for the readings: Lena Endre
27-28 August Stage: Målarsalen.

Bergman and Music: Film and Theatre
Lunch concert and discussion. 'The piamo doesn't give up' (Ingmar Bergman).
Music was an essential part of Ingmar Bergman's life and a faithful companion in his artistic work. Meet Love Derwinger (piano), Rebecka Lagman (cello) and Stina Ekblad (Dramaten ensemble) in a personal interaction with readings and performances from works including Autumn Sonata and Saraband. Discussion leader: Katarina Aronsson.
28 August Stage: Marmorfoajén.
 
Film: Bergman Revisited
A series of new short films that investigate a Bergman universe, introduced by several of the directors: Bergman's Reliquarium (Tomas Alfredson), Vox Lipoma (Jane Magnusson and Liv Strömquist), Scenes from the Night (Pernilla August), Ariel (Linus Tunström), God Is Silent(Lisa Aschan), The Infection (Patrik Eklund). In collaboration with the Swedish Film Institute.
28 - 29 August Stage: Dramatenbaren. Free admission.

The Bergman Podcast: Bergman and Me
Radio Sweden's Bergmans podcast, recorded live in front of an audience, where cultural reporter Gunnar Bolin interacts with a number of actors who have worked with Ingmar Bergman.
29 August Stage: Dramatenbaren. In collaboration with Radio Sweden. Free admission.
Exile Bergman, by America Vera-Zavala
Five continents, five individuals, five stories.
They came to Sweden for various reasons and on different occasions: a film director, a historian of ideas, a rabbi, a librarian and a publisher. All five had seen films by Ingmar Bergman before they arrived and been deeply moved: the Nordic light, the theme of death, the unforgettable scenes. But in Bergman's own country there were few Swedes who wanted to talk about the great director. One person even was told, 'He doesn't have anything to do with us'. America Vera-Zavala's Exile Bergman is based on conversations with five individuals who describe how they experience Bergman.
Cast: Shahla Karimi, Dani Kouyate, Edda Manga, Morton Narrowe, Arina Stoenescu, Ernesto Vera-Zavala Director: America Vera-Zavala Script/Scenic design: America Vera-Zavala Lighting design: Mira Svanberg
31 August and 1 September Stage: Lejonkulan.

Bergman and Music: Opera
Lunch concert and discussion
'I fell in love with opera. It was permitted at hone and affordable' (Ingmar Bergman).
His childhood encounter with Wagner's Tannhäuser was intoxicating. During his career he directed three operas, The Rake's Progress, The Magic Flute and The Bacchae. The composer of that work, Daniel Börtz, will describe their collaboration and Bergman's relationship to the art of opera, followed by readings and music with Carl-Magnus Dellow (Dramaten's ensemble), three singers from the Royal Opera, Marianne Hellgren Staykov, Jens Persson and Katarina Leoson, and Gunnel Lundberg at the piano.
Discussion leader: Katarina Aronsson
1 September Stage: Marmorfoajén. Free admission.

Film and Discussion: Madame de Sade
The television version of Bergman's production of Madame de Sade, introduced bv Stina Ekblad.
2 September Stage: Lejonkulan. Free admission.

Film and Discussion, Gunnel Lindblom: Leaving the Silence
A dialogue between film director Henrik von Sydow and actor and director Gunnel Lindblom.
2 September, venue to be announced. Free admission.

Swedish premiere of Jane Magnusson's film Bergman: A Year, a Life.
Jane Magnusson depicts Ingmar Bergman's life and work during 1957, one of his most productive years. Introduced by the director. The film will be shown at the Cannes Film Festival in the category Cannes Classics.
Date and venue to be announced. Free admission.
 
About the Bergman Festival
The death of Ingmar Bergman in 2007 inspired the idea of creating an international theatre festival in his memory. At the initiative of Staffan Valdemar Holm, then Head of Dramaten, the first Bergman Festival took place in spring 2009. It was followed by second festival in spring 2012 and a third, larger festival in August - September 2016. This year's festival, the fourth, will take place 23 August - 2 September. Bergman would have turned 100 in 2018. Crown Princess Victoria is the protector of the Bergman Festival.
Many thanks to Cevian Capital, Josefsson Foundation, Svante Bergström's Theatre Foundation and to The Goethe Institute for support for Topographies.