DER Touristik merges the lti and Sentido hotel brands
Numerous lti unique selling points will be preserved under the brand name Sentido.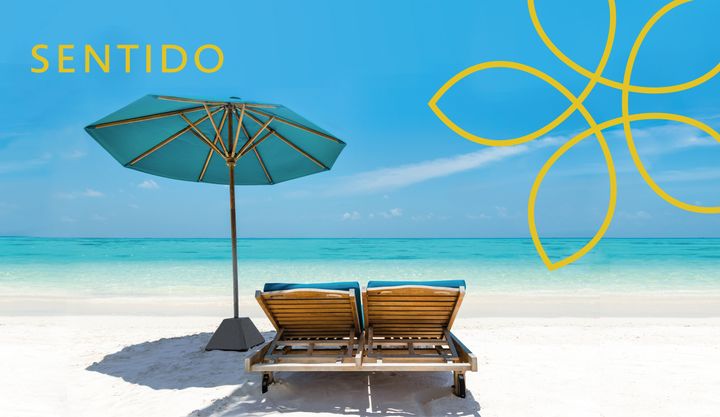 Cologne/Frankfurt, 16 April 2020. The best of both worlds: DER Touristik Hotels & Resorts, the hotel company of DER Touristik, is merging its hotel brands lti and Sentido. Sentido will be the new brand name, and the previous lti flower, whose leaves represent the five senses, will continue to stand as the key visual for the brand promise "relaxation for all senses". Under the new brand name Sentido, other lti design elements and particularly some of lti's former unique selling points in infrastructure and service will be retained, too. With the brand merger, DER Touristik's hotel company emphasises its strategic brand orientation and portfolio focus. The brand merger will be gradually implemented and is to be completed in the first quarter of 2022. It will be launched with the lti Asterias Beach Resort in Rhodes, which can already be experienced as a Sentido hotel in summer 2020. There are currently 18 lti hotels. DER Touristik has acquired the hotel brand Sentido from the insolvent Thomas Cook Deutschland.
By summer 2020, approximately 20 Sentido partners will be operating under the secure franchise umbrella of DER Touristik: most of these hotels have formerly already been operating under Sentido, such as the Sentido Port Royal Villas & Spa in Rhodes and the Sentido Mamlouk Palace Resort in Hurghada, as well as three new additions, including the Sentido Galo Resort in Madeira, which DER Touristik purchased at the end of January, the Pearl Beach Hotel in Kos that previously belonged to another franchise system, and the Sentido Asterias Beach in Rhodes, which is currently still an lti hotel. Furthermore, contract negotiations are taking place with numerous other existing Sentido hotels.
The brand merger of lti and Sentido is based on an analysis of both DER Touristik brands, which had revealed overlaps in target group, positioning and brand character. The evaluation showed that lti boasts stronger unique selling points since its relaunch in 2018, while the brand Sentido is more firmly anchored in the customers' minds and in travel agency sales thanks to its significantly higher brand awareness. "We are uniting the best of both worlds: the strong brand name Sentido and the lti USPs", explains Christian Grage, Managing Director of DER Touristik Hotels & Resorts. "By combining the positive characteristics of both brands, we make a clear promise to our travel agencies and customers – both with regard to the quality as well as the focus of our brand portfolio."
Among the lti product features that will be retained and rolled out in all of the chain's hotels under the brand Sentido, are special room categories such as fitness rooms with cardio equipment, wall bars and other sport facilities as well as rooms with walk-in wardrobes and a unique design. In addition to that, each Sentido hotel will in future provide a regional theme restaurant – either an Enoteca, a small wine restaurant with traditional cuisine, or an à la carte restaurant with local specialities.
Background:
The DER Touristik combines its hotel brands Sentido, lti, Calimera, PrimaSol, COOEE and Playitas under the umbrella of the DER Touristik Hotels & Resorts hotel company. Given that no one dream holiday and travel preference is the same, the DER Touristik Hotels & Resorts focus on diversity: Their hotels cover the various guest needs of families, couples and those travelling alone. Hotels of the Sentido, lti, Calimera, PrimaSol, COOEE and Playitas brands are located at short, medium-and long-haul destinations, with an emphasis on the Mediterranean. In the mountains, the COOEE Alpin hotels stand for ultimate skiing and hiking fun among price-conscious holidaymakers. The DER Touristik Hotels & Resorts hotel company is part of the DER Touristik Group. More information at www.dertouristik-hotels.com.
The DER Touristik Group based in Cologne, Germany, is one of Europe's leading travel companies. The Group comprises about 130 companies and generated total revenue of 6.7 billion euros in 2018. The DER Touristik Group is the travel and tourism division of REWE Group. It employs 10,900 people in 16 European countries. Each year, 9.9 million guests take trips arranged by one of its tour operators or specialists. Its brands include Dertour and ITS in Germany; Kuoni and Helvetic Tours in Switzerland; Exim Tours and Kartago Tours in Eastern Europe; Apollo in Scandinavia; and Kuoni in Great Britain and France. It also operates about 2,800 travel agencies – including the market leader in Germany, DER Reisebüro – and online sales. DER Touristik Group includes five hotel brands, an airline and destination agencies with 61 offices in 26 locations. Further information at www.dertouristik.com.
Om

Apollo
Ynglingagatan 2
113 47 Stockholm
0771-37 37 37
https://www.apollo.se/
Apollo är en av Nordens ledande researrangörer med uppåt 500 medarbetare och en miljon resenärer årligen. Med oss kan kunder resa till hela världen, oavsett om de vill åka på en avslappnande sol- och badsemester, ta en träningsvecka i värmen eller spendera en weekend i någon spännande storstad. Vi arrangerar charterresor, träningsresor, cityresor och kryssningar och erbjuder dessutom säker bokning av flyg och hotell separat om kunden föredrar att själv sätta ihop sin resa.
Apollo bildar tillsammans med flygbolaget Novair, specialistarrangörerna Golf Plaisir, Lime Travel och Xtravel samt sportresorten Playitas, gruppen DER Touristik Nordic AB. Vi är sedan 2015 del av den privatägda tyska koncernen REWE med över 300 000 medarbetare. Apollo arbetar aktivt för hållbartresande och socialt ansvar och vi samarbetar med SOS Barnbyar, Ecpat, SOK (Sveriges Olympiska Kommitté). Apollo är Travelife-certifierade sedan 2015.